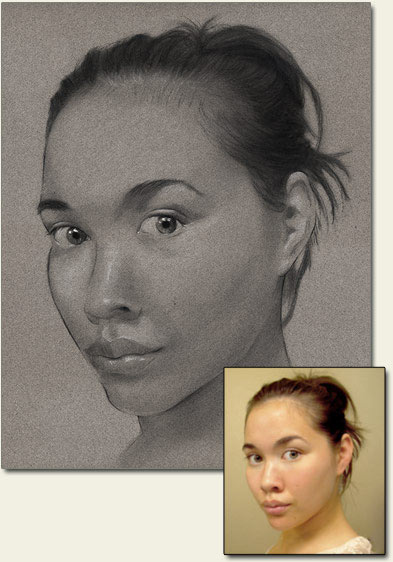 Immortalise yourself or somebody you know, with a very personal piece of artwork. The drawings are carried by myself (the author of ArtGraphica), and created in vine charcoal and chalk (available in two sizes) on toned Canson pastel paper (one of the finest in the art industry).
The process is a simple one, although it can depend on the quality of the source provided (more on this below). There is a standard set of prices, although this may vary if there are additional elements (e.g. background, multiple faces, portraits beyond a single standard head/shoulders shot), but should this be the case, you will be told before work begins.
I ask for a 50% down payment before drawing commences, and will keep in communication with my customers via email, including a preview of the artwork to ensure you are happy with the results before shipping. Although previous customers have always been very satisfied with the end results, charcoal is a medium that can be manipulated, so changes or additions may well be possible. When you are content with the finished artwork, the other half of the payment can be made before goods are securely packaged and shipped. I am based in Paris, and am happy to ship your drawing anywhere around the globe.
Your Photo
Often the end result is dependent on a good quality photograph. If there is blurring, distortion or a lot of 'noise', I am forced to interpret certain details, which potentially could deviate from an exact likeness. Usually these problems occur with small mobile photo images, or particularly old photographs, so this is not often an issue. If there are any uncertainities regarding your photograph, I will let you know before you decide whether you would like to continue. In extreme cases I may have to insist on working from another photograph when this is possible.
I ask for a head/shoulders photograph to work from. If you require a fuller figure drawing, you can contact me and I will give you a better idea as to cost, but I would ask that full figures are done in the larger of the two sizes in the interests of accuracy.
Whilst lighting isn't always a huge issue, portraits can look more exciting when there is an element of light and shadow, so you may wish to bear this in mind if you are taking a photograph specifically with a commission in mind. A slight turn of the head can also be more visually pleasing, as I hope the drawing above illustrates.
The photograph can either me emailed to me (as is usually the case), or if you have something in a hard-copy format, you may post it to me, and it will be carefully returned with your artwork. Your photographs and privacy will be fully respected, and any emails containing any of your photographs, will be completely removed once your artwork is received and you are satisfied.
Types of Commission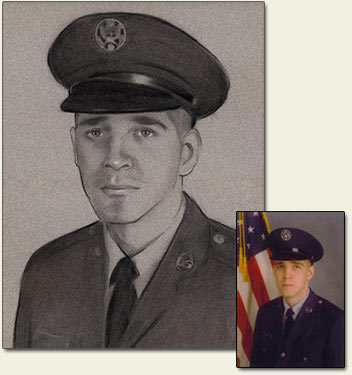 Whilst focusing primarily on portraits, I am happy to take commissions for most types work, including pets, landscapes, objects or buildings. Portraits include family shots (these specifically need to be carried out in the larger 16.5" by 11.75" size), and children. Nudity and erotic artwork can also be commissioned.
All commissioned works are carried out in charcoal and chalk, and I'm afraid I will not be accepting commission in other forms of media at present.
Turn Around
Times can vary depending on how busy I am, this can also vary depending on season (e.g. Oct-Dec can be extremely busy months), but I will always aim to have drawings completed within one week of the first down payment being received. Should more time be required I will let you know beforehand. If a piece is of particular urgence, you may contact me and I may be able to accomodate your deadline.
Caring for your Drawing
Canson paper is of a very high quality and unlike many normal types of drawing paper, you will not have the same concerns about yellowing. Charcoal and chalk will last for hundreds of years, but it is important that the drawing is kept and stored safely if not behind a glass frame. Drawings are sent with a special protective paper covering that you can keep until such time that you wish to display the artwork. I'm afraid I no longer offer a framing service myself, but drawings are made to a standard size, and so you will have a great deal of choice in choosing your own frame and matting.
PRICES
Prices are shown in pound sterling, however you can use the currency convertor to get a good approximation of what this will work out to in your native currency. It is most likely your commission will belong to one of the categories shown. If you are after a different type of commission or require any extras (e.g. inclusion of a background), I would be happy to discuss these with you via email.
Portrait (Head/Shoulders)
Full Body (includes nudes)
11in by 8.5in (A4)
$99
n/a
16.5in by 11.75in
(A3)
$150
$179
SHIPPING
France: $12
UK+Europe: $14
Rest of World: $17
PAYMENT
Payment can be taken by credit or debit card via paypal, you do not need a paypal account to make a one off payment. Additional payment options are: UK customers may pay by cheque (in pound sterling) or bank transfer. European customers may pay by bank transfer in Euros or Pound Sterling, and French customers can also pay by cheque in Euros.
CONTACT / COMMISSION PORTRAIT
Please contact me via the contact page and I will get back to you a.s.a.p.