Doodling
Handwriting may be considered one of the earliest forms of drawing that most of us were taught from an early age, though I would not be too upset if you possess the scrawl of a doctor or lawyer.
Dormant artists frequently doodle, either on the pad by the telephone, in classes where certain teachers muster all the enthusiasm of a dead toad, or in the dumb-downed office environment when the workloads come in of Sisyphusian proportions. Doodling is a significant tool to aid the drawing process; not only can the unconscious mind work unfettered and with imagination, but shapes, lines and form, amass to create geometric patterns, abstract symbols, cartoons and indiscernible scribbles. The process of doodling is one where the brain has little time to interpret and plan its next steps, and this in itself can play a role, in part with drawing, but especially in sketching.
Scribble Creations
A blank page can be very daunting, but it is easily rectified by taking a pencil and lightly scribbling haphazard lines and shapes in every direction. Now, you can sign it at this point and submit it to the Tate Modern, or you can squint and before long (presuming your imagination has not been obliterated by the Harry Potter fads), faces, animals, robots, buildings, vehicles, vegetation etc. etc. may begin to appear. Do not necessarily go with the first thing you see, and if all you can see is a soup of lines, consider adding a few more lines, circles, shapes, and spending a little longer to peer into the spaghetti soup until something appears. The chances are you will see something with eyes, such is the propensity of the human mind for discerning faces. If perturbed by the menacing nature of those eyes you can always widen and round them until you have a Disney cuteness about it. Whatever it is you see amongst this chaos - and I apologise for unduly influencing the possibility that a face of sorts will appear –take the pencil and begin to add some darker edges, exaggerate a few features, then stop and take another look to see where it might be going. If you selectively decide to darken the edges of just a few lines, although enough to suggest a general form, then you will soon become acquainted with the idea of hard and soft edges, but do not be overly concerned as this early stage as this is something we come to in another section.
Scribble Creation in Charcoal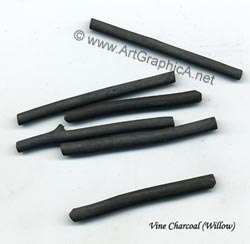 If you were the kid who loved to jump into the middle of a muddy puddle, or the child whom longed to jump but whose parents' disapproval overruled, this is your chance to relive a little of the nostalgia, or engage in that long overdue rebellion.
The medium is charcoal; a drawing/sketching tool created from the burning of willow, and guaranteed to make a mess. Vine charcoal is very inexpensive, you may buy it from any art shop, order it online or make your own (you can find details by enquiring on an Internet search engine), but make sure you buy the vine, twig-like variety and not the solid manufactured rectangular or cylindrical blocks, which are compressed charcoal and more difficult to erase.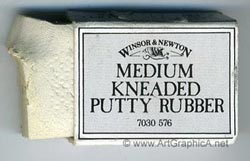 Rub the charcoal all over your page and lightly rub it in with your fingers. Once done, tilt your page and lightly shake off the loose charcoal particles (consider doing it over an old newspaper or open window, and try to keep it off your clothes, though I'd imagine it will easily wash out). It might be advised to avoid scratching your head or touching your face at this stage, unless you're into face painting.
With the paper covered, the sketching process can be worked in a reversal of sorts by reclaiming the paper through the mouldable putty eraser in a way that is not so dissimilar to those etching foil boards that made for enjoyable Christmas presents. Incidentally, there are some fine, skilled artists who create etching works with the same board types and nibs, though without the pre-printed guidelines of course!
Tutorial is copyright of ArtGraphica