Learn to Draw Sketch and Paint
ArtGraphicA started over 10 years ago as a free resource to educate and teach artists of all ages and abilities how to better their skills in a whole multitude of media, to cover both sketching, drawing and painting.
For the self-taught artist, knowing how to begin, which direction to follow and how to motivate and proceed is no easy task. Even for students attending art school, the whims of the art teacher and style of the school is not necessarily suited to the individual artist and their education.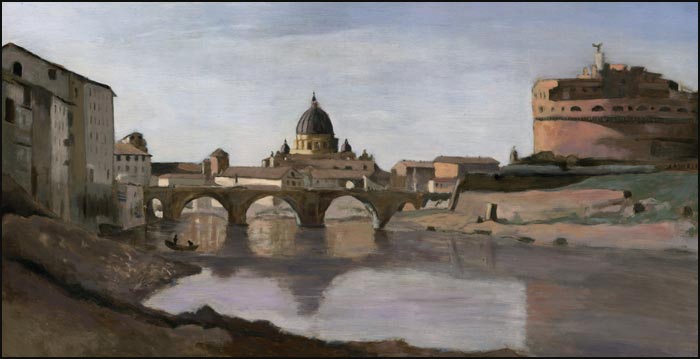 WORK IN PROGRESS - Oil Painting study of Rome, After Corot. 25cm by 50cm on MDF panel.
View :
Oil Painting Lessons
ArtGraphicA brings together a series of art lessons in a number of different mediums, to engage and educate. Most are fairly traditional in their approach. Whatever style or medium you favor, there are certain guiding principles to help you achieve aims beyond merely trying to copy as accurately as possible what is before you. Every art student should get to grips with perspective, and understand the importance of edges, whether they are described in a linear fashion (line based) or in mass drawing / painting where you seek to describe the edge of a shape or form against another. Figures and animals require a sound knowledge of anatomy; all artists must grasp form and shading, and painters must unravel some of the mysteries of colour in their understanding of value, temperature and chroma. To help in this task, we provide a number of art books. Some are a little verbose, and the language a little dated, but they are invaluable in teaching the fundamental principles of drawing and painting and are rarely superseded by the recent books of today.
When learning any new skill, it takes years to start gaining any sort of mastery of it, and even then there will always be new things to learn, and frustrations to overcome. Even the greatest and oldest of artists will usually attest to the persistently challenging nature of drawing and painting: understanding you are not alone in this may lead to less frustration. Practice, patience and persistence will pay dividends, and we sincerely hope this website will help you achieve some of your own personal targets, and certain lessons will inspire you to become the best artist you are capable of becoming.