Charcoal is often recommended to beginners on the basis that it forces you into dark values, and therefore commitment to your drawing and sketches. A pencil by contrast, often leads too much towards a lightness of touch, especially when a student is unsure of themselves. These charcoal lessons use both vine and compressed formats and helps explain how to manipulate edges and values to achieve the effects and variety that a beginner can often struggle with.
Painterly Drawing following Anders Zorn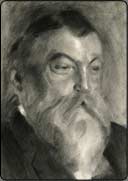 A step-by-step art lesson on how to draw portraits in a painterly fashion. Using panpastel and charcoal on Strathmore 500 charcoal paper, this afternoon study details the processes used to draw a head, and render a full range of values to create a solid looking face.
Painterly Drawing, Charcoal Study after Nicolai Fechin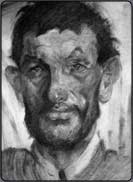 A painterly art study made in charcoal, following an oil painting portrait by Nicolai Fechin. This exclusive three part tutorial, by the author of this website, shows how to use vine charcoal and brushes to soften edges, and techniques for subtractive drawing. There are many benefits to making studies after the old masters, and this tutorial examines some of those goals.
Diego Velazquez, Old Master Portrait Study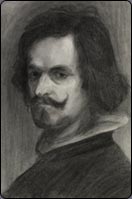 Following in the footsteps of Spanish Old Master, Diego Velazquez, this charcoal portrait demo, shows how the portrait is drawn through the use of simple straight lines, and values built up in logical stages. The 12in by 8in study is completed with vine charcoal, which allows you to draw with shapes and masses, focusing less on details.
Le Fusain : Charcoal Drawing without a Master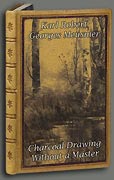 Translated from French, this free book on drawing with charcoal offers some invaluable insights into timeless techniques for mastering the medium. Whilst charcoal was, and still is, primarily used as a beginner's material and introduction into serious drawing and study, it became apparent that it was a far more serious material capable of fine details and subtle toning, and as such can be used to execute entire, masterful pieces of art.
Charcoal Pine Trees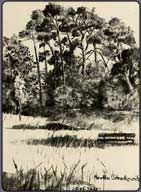 Martin Stankewitz was born in 1954 and was educated in the arts from 1998, studying drawing and painting alongside lessons in landscape plein aire painting, and workshops featuring landscape and architecture. Martin also has a diploma in forestry, and founded the 'Edition Handdruck' in 1996. Stankewitz's exclusive charcoal lesson demonstrates the drawing of pine trees, with videos, showing the versatility of charcoal for drawing plein aire.
Urban Landscape Sketch in Charcoal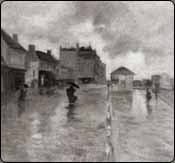 Exclusive to ArtGraphicA, this free art lessons is after Parisian artist Luigi Loir. It is conducted almost exclusively in vine charcoal on cartridge paper, and aims to capture an overcast wet day in an urban setting. To achieve this various blending tools are used, and highlights pulled out with a putty eraser to create reflective surfaces at street level.
Charcoal Drawing Lesson, Learn how to draw people. Free Art Instruction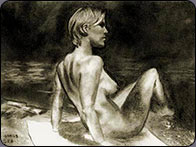 This tutorial is a small rendition of the female nude, using vine charcoal and a brush.
Charcoal, Tones and Values
Blending with charcoal
There are multitude of techiques for blending with charcoal. Sometimes the beginner can find it hard to obtain the full range of light greys to dark blacks that charcoal can achieve, but experimentation will prove invaluable in obtaining subtle gradiants.
Techniques include:
Paper Stump / Tortillon : A useful tool for blending charcoal with the minimum of mess. Be careful not to press the point too hard into the paper, as it can cause damage.
Leather chamois : Used for smooth textures, clear tones and half-tints. It can make tones lighter than the paper stomp.
Rag : A piece of old linen or old cotton is a great tool for removing large masses of charcoal, and for creating luminous areas such as skies in landscapes.
Bread-crumbs : It is better to use stale home-made bread (to prevent grease on the paper), which should last for 2-3 days if stored in a small metal box. This is an age-old technique, and if the bread-crumbs are shaped into a point lump, or pressed flat, they can be used to put in the brightest touches.
Eraser : It is best to keep the eraser sharp, and it provides an ideal means for creating foliage in trees, or sharp edges.
Pastel (aka colour)-shapers : Although originally designed with pastels in mind, the pastel-shapers come in variety of shapes and sizes from flat-chisels to sharp-points for smudging and blending.
Brushes and Pastel blenders : Soft pastel blending brushes are a great way to create a smooth light tone. Coarser brushes (oil painting bristle brushes for example) can allow great use of texture without removing so much of the charcoal. Brushes can be applied to either charcoal that has already been laid onto the paper, or dipped into charcoal powder to build up soft layers.
Puma Portrait Charcoal Art Lesson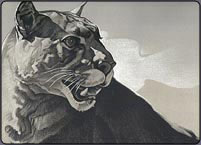 Pablo Dominguez was born and raised in Michigan, but spent much time exploring rural Mexico whilst visiting relatives. He has tavelled across the United States studying wildlife and landscapes. In this charcoal art tutorial, Pablo shows his drawing of a puma on tinted paper, with highlights of white pastel.
Misty Moonrise, Combining Graphite and Charcoal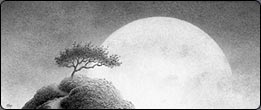 Mark Reep describes his work as 'windows on quiet places, on moments of reflection, on dreams - Times when, as Robert Henri said, 'we seem to see beyond the usual'. Mark skillfully combines charcoal and graphite, working at a very small size to create this atmospheric tutorial - Misty Moonrise.
Portrait Charcoal Lesson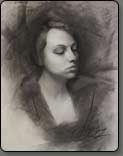 Brian David MacNeil is a realist painting having studied at the Angel Academy of Art in Florence, adopting the techniques of the Renaissance artists. This is charcoal drawing demonstration done from life and carried out in the artist's local coffee shop.
Winter Landscape Lesson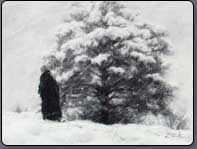 Dan Schultz used compressed charcoal on Strathmore 400 series paper, first toning the sky with a chamois cloth before blocking in, and correct shapes and masses. Follow his step by step progress in this free drawing tutorial.