CUSTOM POP ART CANVAS FROM YOUR PHOTO
Pop art print, made especially for you
Commission an inexpensive, original custom made, pop art canvas created of either yourself, a friend or a loved one. The custom made piece of pop art is based on your photograph. It comes on canvas sized 16.5in by 11.75in, and can be framed (details below). Please read all the steps below before making any purchasing commitments.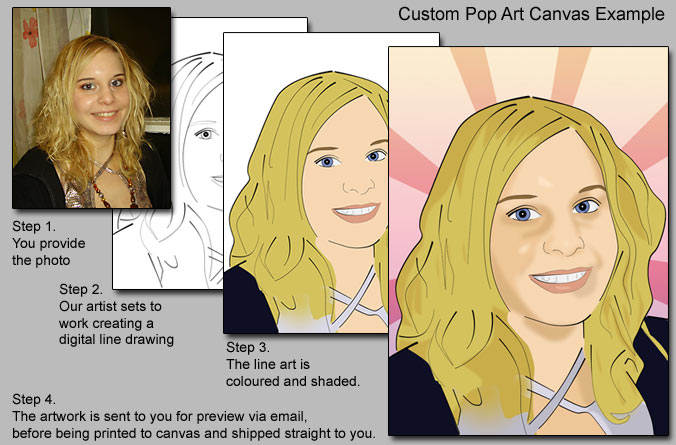 CUSTOM POP ART CANVAS BASED ON YOUR PHOTO
£27.95
IMPORTANT STEPS. PLEASE READ FIRST
1. Artwork is based on a photograph provided to us (either emailed, or posted to us, which we can then scan and return with the finished artwork). It is important this photograph is of sufficient quality to work from - if there are any doubts please contact us beforehand, and we'll get straight back to you and can advise as to the suitability of your source image. The commission is to render a single person, as a head shot, and for that digital artwork to be reproduced onto canvas. As the process of creating the art is a time consuming one we must insist on this, otherwise extra would need to be charged for multiple persons or a more involved full body shot. Colour photographs are preferred, but the artist can work with a black and white image providing the buyer provides notes as to eye, skin and hair colour.
2. Once a photograph of sufficient quality has been agreed upon, there will be a brief email discussion as to any preferred design elements, such as background colour and design. Samples of other artwork can be provided to help you choose.
3. Once finished, a sample of the finished artwork will be emailed to you, this gives us a chance to interact with you once more in case tweaks need making before the artwork goes to print.
4. When happy with the work, we will reproduce it onto canvas and it will be promptly sent to you.
Please note, we aim to complete the artwork as quickly as possible, and from the time a suitable photograph is provided, we can get a preview for you within 7 days.
CUSTOM POP ART CANVAS BASED ON YOUR PHOTO
£27.95