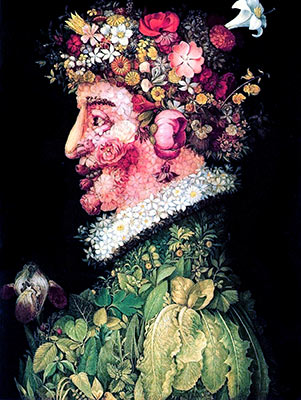 Spring by Giuseppe Arcimboldo
Purchase
STANDARD, 11" by 8.5" ART CANVAS
£9.95
Giclee Art Canvas, Giuseppe Arcimboldo
SUPERSIZED, 16.5" by 11.75" ART CANVAS
£14.95
Giclee Art Canvas, Giuseppe Arcimboldo

Fine Art Canvas reproductions capture the colour and details of the original artworks, and provide a beautiful means in which to adorn any home or office.
Giuseppe Arcimboldo reproduction prints are produced on the highest quality art canvas, and are available to purchase in two sizes.

Giuseppe Arcimboldo
Giuseppe was an Italian painter who is best known for creating portrait heads made entirely of objects such as fruit, vegetables, flowers, fish, and books. In 1562 he became the court portraitist to Maximilian II at the Habsburg court in Vienna, and later, to his son Rudolf II, both of whom seem to have much liked Arcimboldo's extraordinary portraits. He was also the court decorator, costume designer, and general art expert.
Art Canvas
Artwork comes on a titanium primed, genuine archival artist's canvas (not paper based), which reproduces colours and fine details with superb quality. Canvases are rolled and sent securely in a postal tube to prevent damage in transit. Full terms and conditions can be viewed here.
These giclee prints are available in two convenient sizes: standard size: 11" by 8.5" (210mm by 300mm) and supersize: 16.5" by 11.75" (420mm by 300mm).
Secure Online Purchasing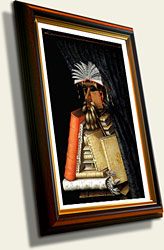 We deliver worldwide. All orders are secure, and we have no access to your private financial information, only your contact details which will be used for dispatch purposes only. Please note the currency converter at the top of the page is for approximation purposes only.
We can accept credit card payment worldwide. Alternatively, we can also accept direct bank transferss in pound sterling or euros only (to avoid additional fees). If wishing to pay by bank transfer, please click 'buy' and follow the check-out process and select the relevant payment method. Your contact and order details will be emailed to us, and we will contact you with an invoice providing the necessary payment information to complete your transaction.

[Standard Terms and Conditions] [Contact Us] [Giuseppe Arcimboldo]