This event epitomised Zorn and his relationship to established society; whilst rejecting its class-structure, he stands loftily above its snootiness, demanding to be accepted on the same conditions as anyone else supposedly better than himself. Zorn became highly appreciated in certain circles in Paris, with his nationality becoming an asset to his fame. Through Cassel, Zorn was introduced to representatives of the Parisian establishment. Among the people he met and got to know was Antonin Proust and Manet, famous actors and musicians. Among his clients could now be linked the most famous and wealthiest of all the family's in Europe, which pleased Zorn immeasurably. When it came to his colleagues in fine art, he had no real time for them, stating in his biography: "There were no other artists worth remembering". However, Zorn did remember the meeting with Rodin, Renoir and Degas, who often attended the same shows as himself. He even went to see many of these at their homes and studios. Why he chose to not remember these artists could arguably be seen as an attempt to underline his feeling of being a foreigner in a foreign land.
Searching the outskirts of Paris he ran into many European art colonies. He became acquainted with artists like Max Liebermann, the Swedish prince Eugene (whom became very close friends with Zorn), Carl Larsson, PS Kroyer, among others. It should be said that the most common emotion directed toward Zorn was jealousy. From the outset, Zorn had not felt at home in Paris, and was seeking the right time to return to his own homeland. Three institutions dominated the Parisian art market: The Saloon, art traders and the public criticisms. As long as Zorn was active in Paris these institutions remained of importance for individual artist's official status and commercial success, regardless of art political developments.Back in Sweden, a national buying department of art was established, consisting of five life time-members of the National Museum's boards. Each year they would reward Swedish artists by bidding on their works, with the intention to hang them in museums.
Mrs. Potter Palmer, 1893
Zorn's artistic evolvement this time was breathtaking. He had finished "Love nymph" and "Our daily bread". In the latter one we see how he adapted his style, introducing a brighter scale of colour and value, highly detailed and very much under the influence of the French painter Bastien-Lepage. 1887 marked a turning point. Outdoor scenery painting had reached its peak. His control over water and figures in this relatively bright tone shows an assimilation from the modern art world which he had been better acquainted with in Paris. His production from Dalarö in this period is astounding; "Out", "A premier" are just two worth mentioning (he received awards for both of them in Paris). At this time he was also familiarising himself with oil painting, developing a self confident brush stroke which he placed with in a summary manner. Some considered his new broad and summery technique as appalling and the work of an amateur, whilst others thought those dabs of paint must have been painted by a genius. He was much influenced by Manet and Renoir in his impressionistic oil painting technique; he had also begun working with sculpture at this time.
In 1893 the World Fair was held in Chicago, USA. This marked his first visit and proved to be very rewarding, though it accentuated feelings of jealousy from fellow artists at his social and financial success. At the fair, "Omnibus" was bought by Isabella Stewart Gardner, for one thousand, six hundred US dollars, two other paintings went for three thousand each, a sizeable sum in 1893! Now, with three important works by Zorn in America, he was a world-renowned artist. One of the world's leading collectors of French art, Mrs. Potter Palmer, hired Zorn as her portraitist. By fellow Swedish artists, Zorn was appointed commissary for the Swedish section of the fair. His duties, amongst others, were to overlook the shipment and the hanging of the paintings. The Zorn's left Liverpool, England, in March 1893 and arrived at New York at the end of the month. They took a suite at the Grand Hotel, Broadway, East 31st street, and stayed there for two weeks.
These were hectic days for the couple. According to Emma, they socialised with the upper class of New York, Mr. Charles Deering being one of these, and found them to be no different to the upper class the world over. Every day had scheduled lunches, dinners, visits to museums, musicals and so on.

Isabella Stewart Gardner, 1894
The fair had its grand opening on May 1st, 1893. It was dedicated to the 400th anniversary of the discovery of America by Christopher Columbus, and stood on grounds amounting to 650 acres, occupied by 27,539 521 visitors! Zorn however, wasn't the least impressed. He summed up the fair and Chicago in one word: "Clumsy", and said "Culture can't be bought for money!". He was thinking how everything was made bigger and grander in the states, and how it lacked in taste when contrasted to Europe.Zorn painted his monumental portrait of Mrs. Potter Palmer. In Emma's letters to her mother we can read how irritated Anders was at the model's lack of patience, and how she had to move around all the time. The model had sent for her finest jewellery from the bank, letting Zorn choose which ones he wanted her to wear. He chose none. Zorn was never much for glitter when it came to his portraits. This portrait, of the nations leading hotel-queen, was to become a gateway for Zorn and his American portraits, many of which display shallowness, irony and dash. He was proud of his artistic knowledge, and even if you can say his art was adapted for the upper class's special needs, he never ever lost contact with his origins, as a human or in his art.
The couple left America in 1894, to visit Mrs. Isabella Stewart Gardner in her Venetian residence, Palazzo Barbaro, where he completed a portrait of the hostess.
"Not all of my employees can be compared to Mrs. Gardner, as I cannot always place my model in front of the Canale Grande. It was a moment when the lady stood at the balcony, watching the sky lit up by fireworks. She turned around, called for me to join her, when I found my painting. I said - be still, I will paint your portrait right now, and so I did."
Sweden, 1896-1920
I entitle this chapter Sweden, not because this is where he spent the remainder of his days - he continued to travel the world throughout his life - I call it "Sweden" because he returned home in 1896 and used Mora as his base camp. It was from here he hosted his receptions for guests, dinners, and other engagements. It was from here - his home studio – that he finished many of his paintings. This was Zorn's own territory, an area where he reigned as King.
In 1897 he went to St Petersburg for a Scandinavian exhibition and received honours in the process. In 1900 Zorn was the commissioner for the Swedish camp at the World fair in Paris. As a commissioner you were not allowed to participate in the contests, and hence not able to compete for the much sought after medals. It was down to Zorn to decide upon the placements of the paintings and to ensure the exhibition looked professional. Naturally, he placed his own work in the best locations, at eye-height and in the middle sections of walling. Then, one day out of the blue, before the jury were to judge the paintings and rate them, Zorn gave up his title as commissioner due to "sudden illness". This illness of convenience meant Zorn could now compete in the contest; however, colleagues rejected this move and became suspicious of this self-claimed illness. Zorn was forced to embellish his act, and did so by placing himself in a wheelchair! The jury members bought it, and Zorn took home the gold medal for oil painting. The next day he was up and walking as usual.
This was Anders Zorn in a nutshell: not caring much for medals and ribbons as decoration at the people he portrayed, but for himself, this "proof of success" remained very important and appreciated.
There were exhibitions in Berlin and Venice, the most important of which was his retrospective exhibition in Paris, 1906. It was to be his biggest ever success, and he mentioned this event within his biography:

President Cleveland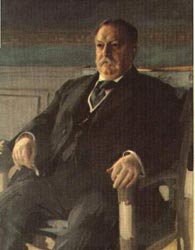 President Taft, 1911
"This year brought me great honour. A bunch of admirers of my art brought together a committee for an exhibition of my paintings. There was the heads of the Luxemburg-museum, the Biblioteque National, the director of Beau Arts, Rodin, Besnard and Lepére and the editors for The Figaro and Le Temps, plus some of the greatest collectors in the country. Three large rooms were filled with paintings, one room with etchings and another with sculpture. It was a great artistic success and I could see young striving artist sitting there watching all day long."
Rodin actually gave Zorn four watercolours as a gift, and Zorn repaid it with a beautiful etching. He had at this time all the commissions he could ever want, and had the luxury of choosing for himself, whom to paint. The list included high ranking members of society, royalty, and government officials. He made five trips to the US in total, which would solidify the making of Zorn's fortune. He painted three of the presidents: Grover Cleveland, Theodore Roosevelt and William H. Taft. Zorn was now a public figure. His name popped up not only in the cultural pages of the papers, but also in the gossip sections. He became known as the wealthy Lord of Painting and also as the greatest of patriots to his origin and homeland. He began reworking his home, the Zorn farm, and ensured it would rise higher than the church of Mora. This was to place his farm as the most monumental building in the area. He also spent a lot of time in Stockholm, Dalarö and other picturesque islands, where he often took his custom built sailing boat "Mejt" out on the water, anchor it in some hidden creek together with a couple of his models, several bottles of vodka, delicacies and of course his equipment.
His view on art, his philosophy, was very clearly realistic. He preached the importance of hard work and good craftsmanship. His love for reality and nature, "which I loved so dearly and from whom I wanted to steal its secrets and beauty", was the driving force of his production. At the beginning of his career he showed little understanding and respect for other artists and their work, but as time went by he went so far as to compare himself with the likes of Rembrandt.
It was in nature he found "the great art" and the artistic truths. As it is well known, the progress of seeing and capturing nature is no easy task, but for Zorn it was both liberating as it was easy.
Nature was found in the circuits of motives that he made his very own and cheating in this area of work could not be tolerated. "Art" came from "knowledge" he often stated and pretty much sums up his theories on art. Nobody today can deny that he certainly lived by this statement.
"It is an old experience I have, that when people spend time with a superficial insight and touch to art, they easily assume that they themselves have an artistic talent and that their regular jobs all the sudden becomes unworthy of their presence. We have many cheaters out there, enough to close every institution of mass production of such. The foundation and presumption of art is knowing and staying humble toward nature and life."
He wrote the above text in 1910, aiming at the art schools of the country. He said they cause more damage than good, due to their lack of professionalism.
Zorn had the idea that he was in touch with the spirit of the people; possibly a rather naive idea. This might have been true when it came to Mora, and the nearby villages. He held as proof of his insight, that the ignorant masses always loved his paintings, and that was the strength and life of his work. In 1905 he had a new studio built, in the middle of a great spruce forest, at its highest point, called "Gopsmor". It was a very simple, primitive establishment and lacking in luxuries. Indeed it was a wildlife studio, built like a log cabin at the feet of the great river "Dalälven", with the hills and forest surrounding him.
Here Zorn would work, spend time alone, or in the company of close friends and models. This was his little time machine, as he kept everything authentic with his childhood. The knives and forks were carved out of wood, where he would eat only simple foods during his first fifteen years, and would sleep naked between sheep-skin rugs. He cleaned himself and bathed in the river, no matter what season. His interest for his background made him spend a substantial amount of his fortune to preserve old buildings and places typical for that society. He restored pretty much an entire village, and gave away money to local craftsmen. Whenever he found old, dilapidated buildings from the eighteenth century he would take them home, rebuild them and place them somewhere on his land.
Zorn's relationship to women is certainly of a central importance in his life and art. You could say he viewed women in three ways: – as a creature of sex, a wife and a mother.
"I have always loved women, and often closed up on her with attentions not always angel-like. It has generally been so, that whenever a brush and a palette were placed in my hands, the artist took control over the man. And the man's curiosity, this teaser of eroticisms, was satisfied only by viewing the nude female body".
Zorn used nude painting as a way to "find the solutions of problems". But it is evident that he looked at the nudes with a touch of strong eroticism. In his biography he describes his models as "dangerous", and how wherever he travelled, he could simply point at any beautiful woman and have her delivered to his studio the same day. His models however, were not picked from the "beautiful people", they were not always fresh, clean and pleasant to look at. He would also use girls from the gutter, with personal and social problems.
The average looks of his models were often embellished with even more cosmetics than in real life.Today, we see Zorn's nudes as national paintings, an expression of Swedishness. His nudes have grown to become a symbol of the Nordic woman.
It is worth mentioning that in his vast production of nudes, rarely is the painting about the woman herself. In almost every case she is a part of the nature that surrounds her, as in his majestic painting "Out", in which he placed two women on a cliff, with a third one in the foreground undressing. Regarding this painting, he said:
"I strived for a result with the same values over the entire canvas, no contrasts… just different colours. I found a pink cliff, on which I placed a couple of models in a pre-decided position and began my work. It was only when I told them to take a break that I found my painting."
By 1920, Zorn could look back on life and a brilliant career. He turned sixty on the February 18th, and celebrated in triumph. He had received countless medals, ribbons, titles and honorary mentions. He even had his own chair in the board of the Royal Swedish Art Academy. But at the same time, his heavy body was beginning to give up. He found it harder and harder to breathe and felt more tired by the day. He had also lost his mother this year, which delivered a great blow. A letter was found, written by a friend sent to Prince Eugen ( a close friend of Zorn), in which we can read:
"Mora, the 7th of July.
Anders just went off on a trip, although in great pain and not sure if he would be able to make it. He is constantly on medication and talks frequently to his doctor in Stockholm. He says he knows time is closing in on him."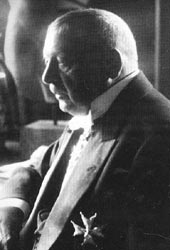 Anders Zorn, 1920
"August 5th
Yesterday Zorn went to Stockholm for a two weeks long holiday. However, after a day and night of heavy drinking, he was completely done and had to make his way home to Mora again."
Anders Zorn died in Mora, on the August, 22nd, 1920.
He left behind a huge fortune, in todays money worth well over 6 million American dollars. Then of course there were buildings, airplanes, boats, land and a pretty respected art collection. Before his death he donated money to numerous institutions, and financed the building of a school and a children day-care center in Mora. In his will, he made it very clear that all of his belongings were to be placed in the hands of the Swedish state, and included instructions and means for a cultural institution called the Zorn museum. He also made sure that the building in Stockholm, where he held his studio, was restored and prevented from ever being demolished. Today, the museum includes his home, a new building that was raised for his paintings, his forrest cottage "Gopsmor" and other local landmarks.