Growing up, 1860-1875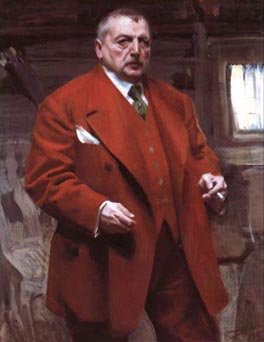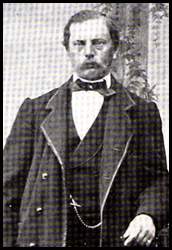 Johann Leonhard Zorn, 1871

Anders Leonardson, bastard son of a farmer's daughter - Grudd Anna Andersdotter of Utmeland - is born on the 18th of February, 1860. He is known for his good-tempered behaviour and has been, vaccinated, not known to be carrying any contagious diseases. He has passed elementary school and shows great proficiency in reading and keeping good manners."

The above text is from a report written by the local preacher, which Anders brought with him when he applied for State Secondary School in Enköping. The identity of his mother is mentioned, but there is no reference as to his father. Today, there is still no legal evidence to verify Ander's father, but beyond any doubt, he was Leonard Zorn, a German Master brewer.


Leonard Zorn was never spoken or heard of until 1872, when his son received notice of his death in Finland. He had suffered a lethal stroke at the young age of forty-two. When sorting through his papers the presence of Anders came to his attention. The notes told of an Anders Leonard who went to school in Enköping, living with Madame Blomstedt. In 1874 the city council of Mora provided Anders the sum of three thousand kronor (about three hundred US dollars); the money would be guarded by Sven Ersson, a local farmer, until Anders reached the age of fifteen.

Anders grew up on a farm in the village Yvraden, at a time when the world was rapidly transforming in the industrial era where magnates were born. They lived a very simple life. His mother, Grudd Anna Andersdotter, often spent time away from home, working in Uppsala and as a result Anders grew closer to his grandmother and developed a deep religious side to his character. The household required that everyone did their share of work, which of course involved Anders too.


By tradition, Anders was called Grudd Anders, after his mother, but following his move to Enköping there came many changes. He was turning into a city boy, a change supported by his father's brewery friends, Hartman and Kalb to mention a few, in Stockholm. He changed his name to Leonard Zorn, and for the first time understood the meaning of the words 'poverty' and 'class-distinction'.
It could not be said that he was the most successful of students, but he was not a bad one either; his mind and heart belonged elsewhere, beyond the academia of hard analytical studying.

The young Zorn caught his teacher's attention with his natural artistic talents. After school he would draw for a Ms. Sahlin, who allowed Anders free experimentation to draw figures from posters and books. He produced some exquisite portraits in pencil of his classmates and views from the town of Enköping, and created some amazing woodcarvings, many of which are preserved and reside at the Anders Zorn museum in Mora. He finalized his education in the spring of 1875, and at the age of fifteen his new goal was set: Stockholm, and the Academy of Arts.
The Academy, 1875-1881
It might be conceived that Zorn's folksy background would hinder his pursuit for a place in society. His roots were sown in Mora, with its farmer culture, yet his father the German brewer, had never laid foot there. In Stockholm, he found fellowship with the high-class brewery society despite his peasant boy origins, and discovered them to be somewhat perplexing. Zorn's duality was later to become a great asset in aiding his career, unhindered by the lack of support from his own family whilst at the Academy.

Once admitted to the Academy, Zorn signed up for Woodworking lessons, but was soon transferred to the preoperational school known as the "School of Principle".
During his years at the Academy he would always return home for the summers, never absent for the Swedish holiday, mid summer, held in June, and as a devoted son he stayed in touch with his mother the whole time. It was during one of these summers when Zorn took to painting in watercolours, focusing mainly on local sceneries and portraits, and his new life as an artist inevitably led to new interpretations of the traditional, tourist-friendly, country life in Mora. Insight deepened and intimacy, toward the culture and language, intensified consequentially affecting his compositional skills, despite technical skills remaining unchanged.
The three thousand kronor he received from his father was virtually exhausted by 1878, after three years at the Academy, but with the support from the German brewery society in Stockholm, he was given the means in which to continue his studies. As Zorn himself states in his autobiography: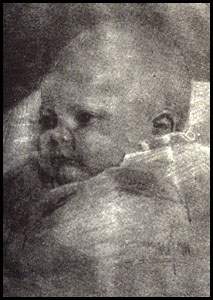 Dead, 1871
"I would be able to continue my studies, but dependant on a stranger's help. This felt humiliating and put a lot of pressure on me. The economical aid was for the fellow countryman's son. My self esteem and pride attended a brutal but awarding school."
Later in life he described this situation as a form of organised charity, an economical help program existing long before any such systems were established by society.
In a letter written to his "dearly beloved mother", he wrote how his former landlady Ms. Sahlin, persistently told him to dress properly whenever he moved in "good society", which was now the case. A Mr. Anton Bolinder, owner of several factories, and father to two of Ander's school friends, epitomised the new upper-class world Zorn now had to adapt to. Thanks to Mr. Bolinder, Anders was accepted at the preoperational school. The family had taken Zorn in and treated him like a dear friend and member of family. There were also other families there for Aders - to name a few: Dolling, Hartman and Heiss, all of whom willingly opened up their doors for the young prodigy.
Zorn soon had opportunity to start providing for himself. With his rapid development in the art of portraiture he hastily began taking commissions, mostly via the families mentioned above, which included being hired to produce portraits of the deceased. He coupled that with various illustration jobs for magazines, which was to provide a good source of income. From his biography he wrote:
"I remember walking up to the coffin, surrounded by visiting mourners, lifting up the eyelid to get an alive-like portrait. I did these on grey paper with black and white crayons. My fee was fifteen kronor (about one and a half US dollars)".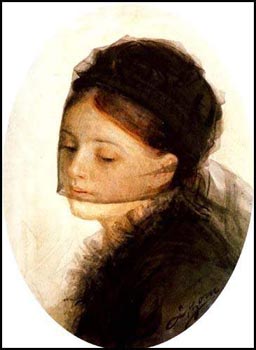 In Sorrow, 1880
In 1880, he produced a portrait that would become crucial to his career - 'In sorrow' -, which landed him the reputation of a highly respected portrait artist and soon found himself in great demand. His chosen profession would, in the late 19th century, become increasingly adapted to a capitalistically controlled art market. Earlier, this had been foremost a field for kingdoms, the church and corporations. Zorn had by now adapted himself to an environment that radically differed from his childhood's. It was inevitable that the distance between Stockholm and Mora grew further apart, in the sense that he could no longer share their conditions of life. When back home, he would wear traditional clothes, and in Stockholm he would don fancy suits and shoes that actually fitted. In the fall of 1880, Zorn for the first time got himself his own studio apartment, located in a part of Stockholm that no longer exists.
The beautiful "In sorrow" painting has a story worth telling in its own right. Zorn's self confidence was expanding, more now than ever before, mainly due to his successes in watercolours, though his love for Emma Lamm played no lesser role.
His artistic breakthrough took place in the spring of 1880. His painting "in sorrow" was chosen as the main piece at the Academy's exhibition. The model for the painting was Mimmi Nystrand, whose father had just passed away (at the time Zorn was living with the family.) Zorn said, regarding the reception of the piece:
"I painted the head of a young woman, wearing a black veil, and called it 'In Sorrow' before submitting it the pupil's show. Professor Boklund, the bitter but benevolent man in charge of the exhibition, had toothache that day and saw me with half-hearted enthusiasm. He said about my painting: "Son, such waste of paper. Put it down on the floor!" ...
... "The next day however, I was sent after to meet him, and he said: "Son, they want it! They're crazy about it! How much do you want for it?" Staggered by this unexpected turn, I modestly replied "Fifty kronor" (about half a dollar) - "Son, damn you for not asking one hundred and fifty for it! The next day the caretaker came to me with an envelope containing one hundred and fifty kronor. It was from one of the professors who bought it for a friend. A few days later there was a big article in the magazine describing my opus, and how my fortune was made."
Zorn produced several versions of this theme including a smaller one than the original for his friend Ferdinand Boberg, whose family had made a fortune in Paris in the tailoring business. They would also "dress" Zorn throughout his career. He came back to this theme over and over again during the following years.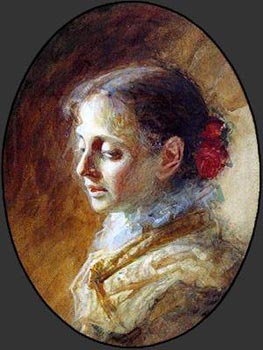 Emma, 1881
In his first years at the Academy, Zorn regularly went to church, but as a growing teenager in the nation's capital, with such a vast offering of new, exiting social engagements, that habit changed. Masquerades, hanging out at the proper cafés, smoking cigars, drinking brandy and cognac, ice-skating, dancing ballet and similar such activities now took a larger part of Zorn's spare time. And there was of course, studies. Zorn was an arduous worker when it came to his art. In 1878 he was admitted as a student to the Academy's higher State secondary school, and in 1879 he received his degree in perspective and anatomy. At this time, Zorn and his fellow students where unpleased with the design of the Academy and its organization. They chose to ignore lectures and lessons by teachers they did not respect. When the founder of the Academy, Mr. Jonas Boklund, died in 1880, relations between the organisation and students council were refined. His successor Mr. Von Rosen, presented a much more disciplined nature of the school and its classes.

Zorn was somewhat caught in the middle of this event, and was picked out as a bad example for the rest of the students to observe.
The school committee gave Zorn a third and last warning for his nonchalant attitude toward his studies. Zorn officially proclaimed:" - I no longer have anything at all to learn at the Academy, and therefore I shall leave it!"
From his talk with the head of the Academy committee:
"I was told how spoiled and ignorant I was and so on... He told me I would return on my knees, begging for mercy and admittance to the Academy again. I couldn't help but think about the scholarship and the three thousand kronor I would receive if I apologised, but then I heard behind me, the sound of fellow students joining me to leave the Academy. Thus, - the uproar against the institute had begun."
Zorn was by no means a revolutionary, so it is somewhat ironic that he came to command, and win a fight against the Academy. By this time he had reached such a high status as a portrait painter that he held plans to leave the country for experiences in foreign lands, however, there was first one task to which he must commit... to get engaged to Emma Lamm.
Engaged, 1881-1885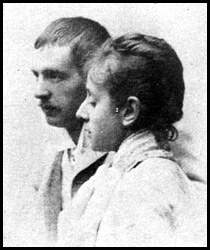 Anders and Emma, 1884
On June 2, 1881, Anders Zorn was engaged to Emma Lamm. They had met for the first time on New Years Eve, 1881, whilst painting a portrait of her niece. Emma was the youngest daughter of Henrietta Lamm and wholesale dealer Martin Lamm whose origins lay in Altona, Germany.
In 1772 the law made it possible for Jews to immigrate into Sweden and the family did so in the latter years of the eighteenth century.
During this period Emma was living with her mother, a widower of only a few years, in their home in one of Stockholm's more upper class quarters. They spent their summers in the beautiful Dalarö, situated in the archipelago of Stockholm. She was a family girl, brought up to conform to the ways of upper class society. Notwithstanding the privileged liberal and cultivated upbringing, Emma's proclivities never drew her toward any form of creative activity. Oftentimes she would take a very passive and unconditional approach towards the arts and literature, undoubtedly to the advantage of her fiancee.
Their romance was initially kept a secret in the understanding that the family would not tolerate Emma's independence. Zorn's artistry was not so much an obstacle as his economical situation that deemed him an inappropriate husband for Emma. Any public announcement was further hindered by Henrietta, Emma's mother, who had discovered their plans and forbade Emma from marrying until Zorn's incomes were more modest and secure.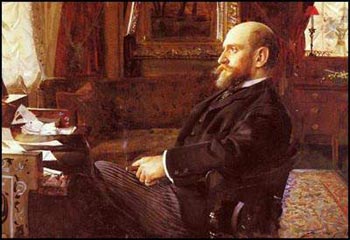 Ernest Cassel, 1886
The family persisted with relentless pressure, and gave Anders an ultimatum: he must be worth at least three thousand kronor (about three-hundred dollars) with a string of commissions waiting in line, guaranteeing a steady future income. The family's insistence was not the only influence on the engagement situation for Zorn himself did not want commitment without financial security.
In letters sent between Anders and Emma from 1884, we can see Emma's engagement plans. She had created budgets based on potential incomes, hers being the interest from her father's fortune. In May, 1881, there was nothing further that could prevent the engagement, scheduled to take place early the following month.
In the middle of July of the same year, Emma, her mother and Anders paid a visit to see Zorn's family in Mora, who were consulted and questioned on anything concerning their engagement. It was part of tradition that the families would now get to know each other amongst the social arrangements of official visits and dinners. On such a dinner at General Consul, Henry Davidson (Emma's uncle), and Zorn got in touch with the English financier, Ernest Cassel, who would become Zorn's great beneficiary and patron of his arts.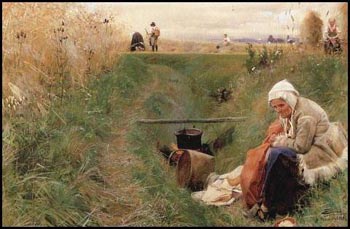 Our Daily Bread, 1886
In 1885, the curator of the National Museum in Stockholm contacted Zorn and asked him to finish a painting with a patriotic theme behind it, intended from the outset to be a museum piece. Zorn replied:
"I will paint what I know best, and what I love the most: the fields and the ditches of Mora where I played as a youngster while harvesting was in progress. Grandmother would of course be the main feature of the painting, boiling the potatoes, packing up her sack of supplies for the workers."
The painting was born and christened "Our daily bread", a watercolour on paper, 25" x 41" and today held as one of the museum's more important and valuable works. To see this painting in real life is amazing experience. You are pulled into the painting with the ditch and grandma, the fragrance of grass drifting on a zephyr breeze running through your hair. Even when standing just a few inches away, it is hard to conceive that this was painted in watercolours; there is amazing tonal control, which would later be employed to near perfection in subsequent oil paintings.
The couple were wed in a civil marriage, but not until October 16, 1885. There was a long time of engagement preceding the wedding, largely due to the issue of economic security and the ability to provide his future wife with a living equivocal with her station in life. Another contribution was Henrietta who had pleaded with Emma to "wait"... she was worried about their differing backgrounds that may lead to a marriage burdened by too many compromises. She used to tell Emma that Zorn was a great artist, and great artists should be allowed total freedom in life. Intrusively she demanded to read the letters Zorn had sent to Emma, who obliged through a sense of loyalty. Anders reacted placidly towards the Lamm family's coercive ways to try to control him and his fiancée, yet never considered the Lamm's as close.

Mary Smith, 1881
Anders temperament fluctuated like the ebb and tide of an ocean. His temper and self-confidence changed weekly and in letters sent to Emma, we can read how he reproaches himself a superfluous artist, mediocre and on occasions, worthless. He discloses his premonitions of a lousy marriage whose only conclusion would be a sad one. In other letters he calls himself "extremely lucky to be blessed with such marvelous talent" and wrote fairytale-like explanations of love towards Emma, and how they would last happy forever and after.
Zorn made a couple of lone trips to England and Spain in 1881/83, to study the works of masters not present in Sweden. More on these travels in the following chapter. Rumours of his way of life found their way back to Emma, at home in Stockholm. Although it may be said that the bearers of the news were not always correct with their information, Emma knew they were not totally without substance. Letters from the time indicates Zorn did not entirely turn his back on Emma when he was away. It can be read in the letters to his friends that he extensively participated in erotic adventures, which were not very sensational, and as he established himself in London he openly described his affair with the model he called "the pretty little girl" (Mary Smith).
Understandably, such things mattered to Emma, but then so did Ander's artistic career and his knowledge in arts - this being fundamental in order to secure an economic grounding. Neither of them ever questioned Ander's need to go on these journeys abroad, to broaden his expertise, however, Emma sometimes felt Zorn was delaying his homecomings a little too easily and too frequently. The fact remains that they actually spent little time together during the engagement. In 1883 he returned for a short visit to Mora and to Dalarö, and completed a beautiful painting, "Emma in a hat".
Zorn's career, from its early beginnings was surrounded by an attitude of professionalism, despite turning his back on the Academy and joining the "movement of resistance" (- he had never attended a single meeting), but this did not change the fact that he opposed the system society employed to control the functions of the art world. He studied, with great skill, the rules of success: as he decorated his studio in London, at 52 Book Street, 1882, he received a very lavish group of furniture; he invested in a fancy riding dress and contacted the Swedish Embassy through whom he got in touch with 'the right' clients. To say his economical status during this period was anything other than moderate would be wrong. Zorn actually bet all his money on one card as he established himself in London. He obtained expensive business cards, and contacted one of the more prestigious tailors to acquire two new suits before managing a negotiation that allowed him credit at the art supply store at Oxford Street. The rent was high:
"Five guineas a week, but I took it. Now I could only rise or fall. I had to work work work, my way for survival, and I prepared myself for the horrible thought that I might even have to starve."
He later wrote in his autobiography: "In London, you can paint like a God, but still be starving."
Click to View PART TWO of Anders Zorn biography