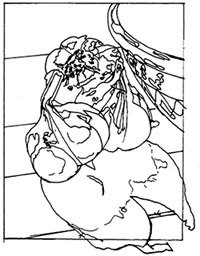 Step 1. The line drawing
I started with a line drawing of my still life - the same size as I wanted my finished work to be. I placed the line drawing on my light box and laid a piece of drawing paper on top of it. For "Backlit Garlic" I used Rising Stonehenge (printmaking) paper. Next, I lightly outlined the objects using a 30% French Gray colored pencil.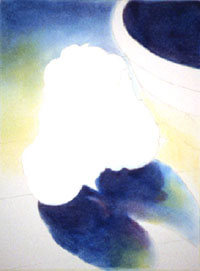 Step 2. Dissolve the Pigment
Large areas of dry colored pencil were applied and then dissolved with solvent for quick, uniform foundation of dark value. At this stage, the subject to be backlit (white garlic) was covered with a layer of frisk film which was cut to fit exactly over the subject. This was to keep the paper clean. The strong white of the paper was needed for the strong backlit halo effect. Colors used in Step 1: Indigo Blue, Black Grape, Sand.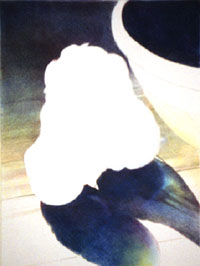 Step 3. Dry Pencil on Top
Dry colored pencil was applied on top of the dissolved foundation in tiny circles or slight crosshatching. I didn't want the pencil strokes to show. I wanted the colored pencil to look as if it has been sprayed onto the paper. Colors used in Step 2: French Gray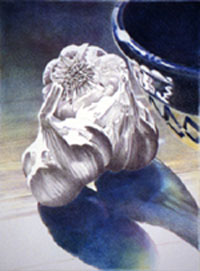 Step 4. The Grisaille
The form and volume of the backlit garlic was created with a 90% French gray grisaille (greese eye). I used a sharp point, light touch and tiny circles or crosshatching. For light values I applied one or two layers of pigment. For darker areas, I used additional layers. Colors used in Step 3: French Gray 90%, Black Grape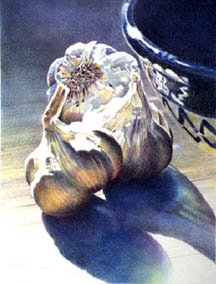 Backlit Garlic

15" x 11" (38 cm x 28 cm)


Visit Barbara Benedetti Newton's Website
Tutorial is copyright of Barbara Benedetti Newton, CPSA