Charcoal Portrait Sketching, Part 2 of 3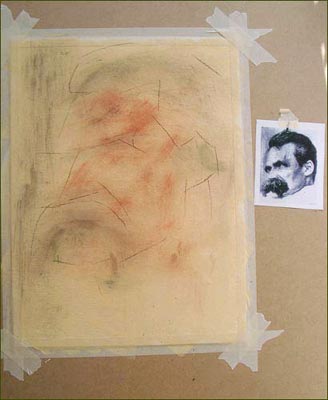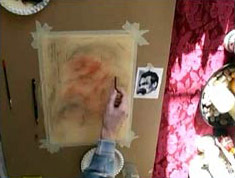 I have always found straight lines easier to visualise and reproduce than a curved line. A prime example is when drawing an ellipse - if a box is drawn first, it is easier to then draw the ellipse to fit inside.
With a piece of vine charcoal, I quickly mark a few guidelines denoting the major angles of the face and hair from which I can later build up the facial features. A tip I once learnt from Andrew Loomis' books, is that an idealised, proportionate face has these landmarks at equidistance from one another: hairline to eye line; eye line to base of nose; base of nose to bottom of chin. Obviously it is just a guide, but by using it as a guide, it is easier to draw a better proportioned face.
The Initial Block-in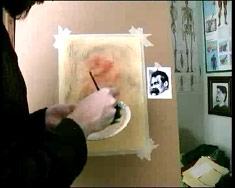 I keep a jar of water beside me and periodically wet, or lightly moisten my brush. Doing so allows me to partially control the darkness of the charcoal. If the brush hairs are just slightly moist, they lend themselves to producing interesting textured lines, something that would take much longer to reproduce without the aid of a brush.
Although I build up the tones within a few layers, I try to place each stroke with a degree of accuracy. The worst thing you can do is overwork an area (sometimes called 'licking'). Quite a few of my strokes are 'feelers': the brush does not actual make contact with the paper, but by imagining the stroke (in a similar way that a snooker player visualises potting the next ball), I stand a better chance of placing it in the desired place.
I typically adopt a different approach to each sketch or painting I undertake. In the case of this portrait I liked the spontaneity of working on all areas at once, letting the unconscious mind roam free of the analytical. My intention from the outset is to give the portrait's eyes a little more attention and depth from the rest of the drawing, so that by the end, they subtly draw the viewers attention.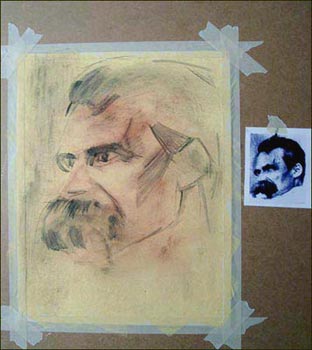 Block-in, First Stage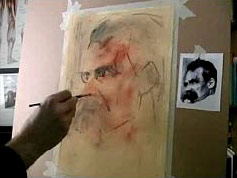 I use a combination of brush and vine charcoal to mark in the area of the eyes. You will notice that the edges are fairly hard and crude, but at this stage I am just trying to establish the general positioning. A great tip to learn is that good drawings/paintings have very few 'hard' edges, and many soft. By 'hard', I mean having a crisp, and distinct edge which the viewer's eyes will be immediately drawn towards. To loose some of this hardness, a few light strokes of the brush, or a little rubbing from a finger can soften and blend, though I don't recommend over doing it.
Once I darkened the eyes, they inevitable stole the attention, and so I quickly established some more darkened areas around the face in an attempt to balance the sketch.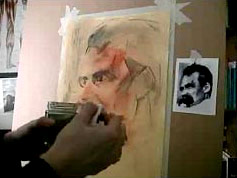 Hightlights Through Erasing
This is where the small piece of t-shirt comes in handy. Wetting a piece of the material in my jar of water, I was glad to find that the red pastel could be removed without too much of a fight. I would imagine that the gesso underlayer helped in this respect.
Although areas of light and dark are easy enough to see in my small reference photo, squinting your eyes to see tone is an invaluable aid to visualising values.
Lesson continues, follow link below...
Click to View PART THREE of the CHARCOAL PORTRAIT SKETCHING art lesson