Portrait of Chanticleer's Shadow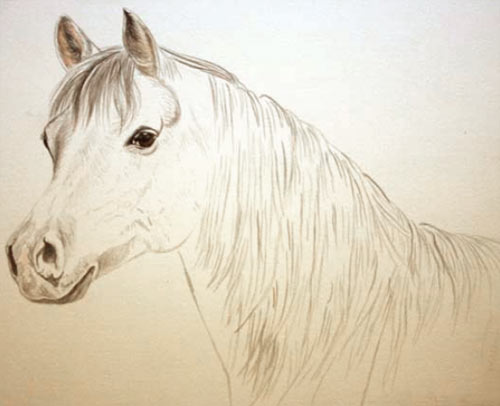 This painting is near and dear to my heart, it is a donated prize to the High Point Competitive Trail Riding horse for Ontario for 2008, Chanticleer's Shadow ridden by Elaine Steele. This little Arab's personality is apparent in his very alert expression. Greys are my favourite colours to paint: they utilize a very limited colour range. Care must be taken to not overdo the grey and brown lines which suggest the facial contours. Most of this image is the white of the paper showing through lightly washed areas. As usual, I started with grey mixed with a lot of water so that the guidelines of the drawing are easily covered with darker layers of paint. I think this is why I don't do the drawing in pencil, I would have to erase pencil lines on the very light areas. This painting is going to mainly be about his expression and his very copious mane, so lots of lines are painted in here to help me get it accurate.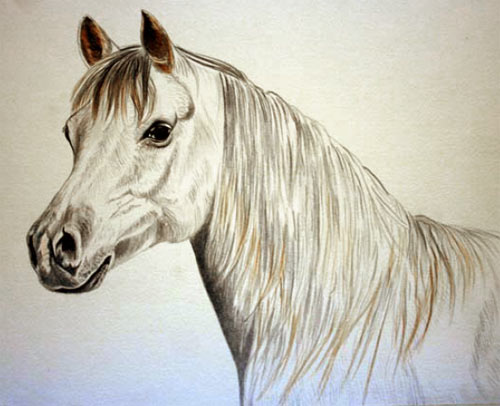 Here we can see his face has been very much developed by only a very few amount of lines, suggesting the way the hair grows and outlining the facial bones. His ears, forelock and muzzle have had a lot of attention here as I vary the length and shape of brushstrokes. His mane is not just black and white, but several shades of brown and red are going to be apparent in the final painting, so I suggest them here lightly to help me as the painting progresses. Small white areas are left in and around his eye, helping to convey the alert and attractive expression on his face. Here we can clearly see the typey look of his Arabian breeding: the dishy face, short muzzle and ear tips that point slightly inwards. His mane was not laying completely flat, and I left it as I saw it, after consulting with the owner. This was what she was wanting, a relaxed look as opposed to a perfectly groomed show horse.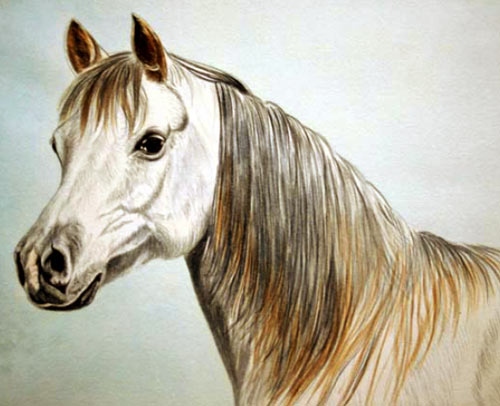 I darkened areas of his muzzle and mane, and the sections that his mane naturally fell into are starting to take shape here with long straight brushstrokes. I have started laying in the ten or twelve washes that are going to be used in the background rather than the tangled foliage that was in the photograph. A complicated background would serve no purpose here and would compete for attention of the viewer's eye, so by mutual agreement we decided on a plain blue sky. All of these details must be planned in advance. It is also nice to use some of these light blue shades in the shadows of his face which help to unify the painting with colour. I have added light grey and raw umber strokes to suggest the hair on his withers and shoulders. I added dark shadows coming out of his nostril and his bottom lip. I added small bumps on his upper lip, horses have whiskers here that look like small raised lumps. Some people cut those hairs off for showing, but all breeds have them naturally present. This horse also has his ears left natural, again, that hair is shaved by clippers on show horses.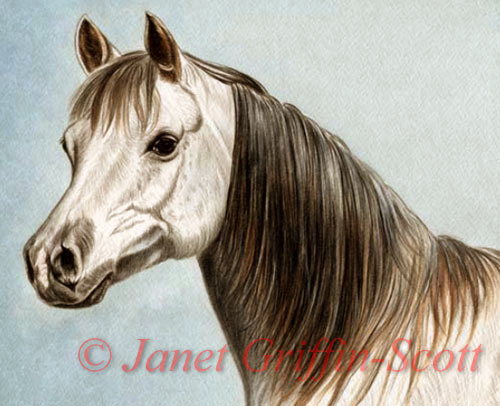 In the completed painting we see the darker brushstrokes finished in the mane, but reddish highlights left in. It is important to note that grey horses have no actual grey hairs; their coat is made up black and white hairs only, and when viewing their coat, the visual mixing makes the horse look grey. This guy had no dapples, so that made this portrait straightforward. Grey horses are born either black, brown or chestnut and they grey out as they age. Some grey out in two years and some take twenty years. The washes in the background are finished here, not completely flat colour but darker in the bottom left. I used a squirrel hair brush for this gradient, and kept Qtips, Kleenex and paper towels handy always during this process to remove areas of colour that went on too dark. I also blot the brush each time after loading it with colour, on a scrap piece of watercolour paper to prevent big droplets of water from landing on the painting as it progresses. I let each wash dry completely before adding another one, and I always put the wet paint under the lamp so that the heat of the light bulb speeds the drying process.

By Janet Griffin-Scott