Thomas Eakins (1844 – 1916) is ordinarily known for his realistic portraits. He studied in Paris at the École des Beaux-Arts under French artist Jean-Léon Gérôme, and spent a brief spell with Léon Bonnat.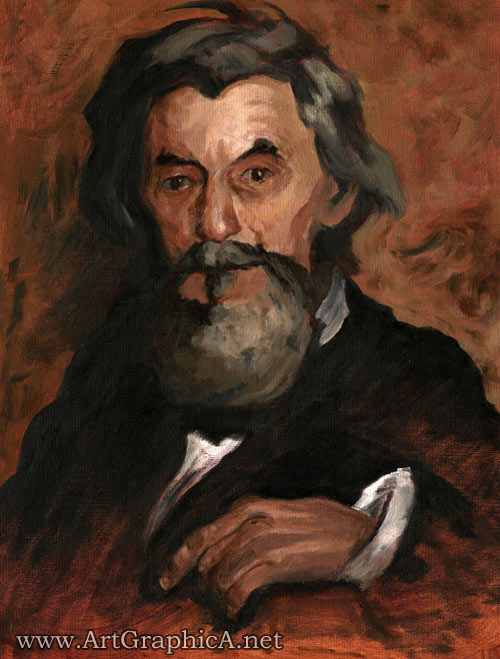 Portrait after Thomas Eakins, 30cm by 40cm.
In 1891 Eakins painted a portrait of his father-in-law, William H. Macdowell, an engraver from Philadelphia. It was 71cm by 55cm in size and he may well have simply considered it a sketch or study. The stylish pose of a long face on a pyramidal body created with liberal brushstrokes creates an impressionistic mood to the painting, and an expression that is sometimes lost within his more realistic renderings.
For years I have been doing sketches with pencil and charcoal, never breaking into colour and oils other than half a dozen experiments in my early days of learning to draw. I had bought numerous tubes of paint in those days, left virtually unused. When the stiffened tops left my fingers bleeding, I wrenched them open with pliers, scraped out caked paint from the tube ends, and was happy to find them still usable.
The study was carried out on a 30cm by 40cm canvasboard, toned with transparent oxide red. I rarely go in with the aim of an exact study; my goals are to capture some of the expression and to learn how to mix and apply paint. The Rembrandt transparent oxide red dictated the skin tones, which meant many more warm reddish tones to Eakins earthy colours and yellow ochre and raw umbers. Thomas Eakins also carried off a thick sculptural appearance with his paint which I sadly failed to emulate; in part because I cannot afford big tubes of paint, but also due to a lack of experience in dealing with thick impasto layers which can be hard to control.
The alla prima study was done in two afternoon sessions. A turpentine thinned layer was put down, with lines to mark the general placement of the head, suit and hand. The next stage was to block in the large major shadow shapes. The initial thin layers meant it was far easier to add thicker paint applications over the top. The lighter areas are done towards the end, with more paint on the brush for the highlights, and no medium to thin the paint.