Erasing and Subtractive Drawing With Colored Pencils
Drawing Supplies
(Click Image For Larger View)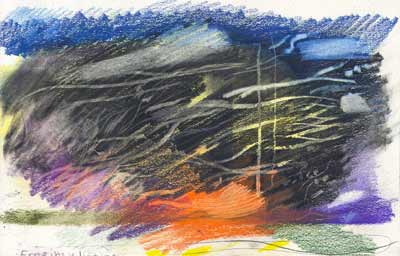 Retractable Penknife: Use the flat edge of the retractable pen knife to scrape off the overlaid or burnished wax colored pencil from the paper surface. Use caution on the angle of your knife because the knife tip or point can leave scratches or dents in the paper.
Pink Pearl Eraser: After scraping unwanted colored pencil marks off the paper, use the pink pearl eraser to scrub off the remaining color. Erasing overlaid colors or burnished colored pencil marks can smear or stain the paper. To prevent unwanted blemishes, use a clean eraser. A residue of color may remain depending on how heavily the colors were applied. To whisk away erasures and pencil dust use a soft mop brush.
Electric Eraser: The electric eraser can lift off color "almost" completely down to the surface of the paper.
Mounting Putty: Use a wad of tacky putty to lift or lighten colored pencil overlays. Mounting putty does not erase colored pencil as much a lighten colors and values without smearing your work. Blot or rub the colored pencil overlay to lighten the colors without erasing or scraping the drawing.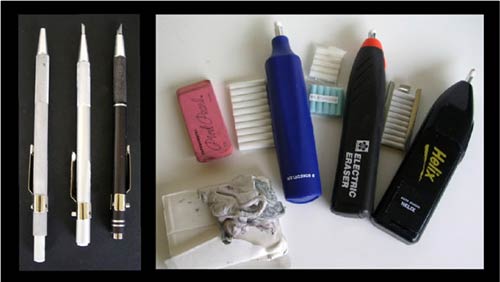 Subtractive Drawing
Sgraffito: Using a retractable pen knife, scratch into a thick layer of color, to reveal the underlying surface. Lay down a solid block of color by shading with the pencil or staining the paper by rubbing a solvent soaked pencil overlay with a terrycloth. Then solidly apply a second layer of a different color over the top. Scrap away the top layer using the flat edge of a penknife for a broad line, or the point tip for a fine line. In effect, this is "subtractive" drawing – removing color, rather than applying it. Pencil can also be applied over colored papers or other backgrounds and then you can scratch out the desired shape or design. Sgraffito technique is wonderful for adding finishing touches to hair and fur. When the sunlight catches a glisten tendril of hair or a highlight on a leaf or a blade of grass, a mere whisk of the tip of the knife lifts off a fine line of tone or makes a thin line mirroring a fine pencil stroke. By using the broad shape of the small knife blade and tapering to a fine line you can make the shape of a leaf or any other tapered contour. A slight stroke of the broad end of the blade allows you to lift layers of pencil strokes in the same way you applied them. Your blade becomes almost as flexible a drawing tool as your pencil. This techniques works best if there is a thick layer of colors overlaid onto your paper.
The best results for sgraffito techniques are based on the paper you use. The paper should allow your colors to sit on top of the paper – not absorb the colors into the paper. Your paper should be sturdy and not easily damaged from scraping or scratching. This technique is not successful on soft, thin or wood pulp papers. I recommend the 500 series, 100% cotton acid free bristol board, vellum or cold press type surface made by Strathmore.
Standard craft knives do not have the delicate blade that retractable pen knives have. Using a standard craft knife for delicate sgrafitto techniques is comparable to drawing with a used crayon instead of a very sharp colored pencil.
Sgraffito Technique adds final touches on hair and scrapes branches out from the background.
(Click Image For Larger View)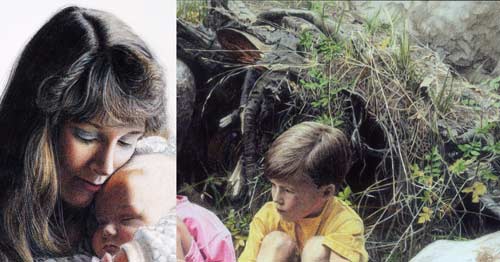 Sgraffito Example
"Desert Flower"
(Click Image For Larger View)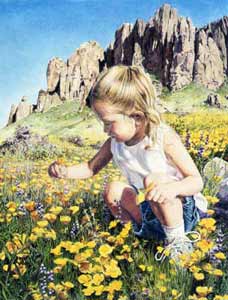 Sheri Lynn Boyer Doty
Clear Blending Markers Example
"Abby and Louie"
(Click Image For Larger View)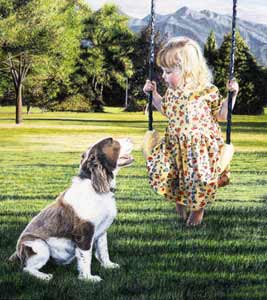 Sheri Lynn Boyer Doty
Electric Eraser -
The electric eraser can be used as a subtractive drawing tool making lines and dots, and lightening shaded areas. I use it to render sunlight showing through leaves in the trees and make textures in fabric as well as show highlights.
In this example, an Electric Eraser lifts off stained colors and overlays showing the sun shining behind the trees.
(Click Image For Larger View)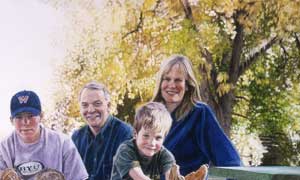 Electric Eraser Example
"Because of Thy Faith"
(Click Image For Larger View)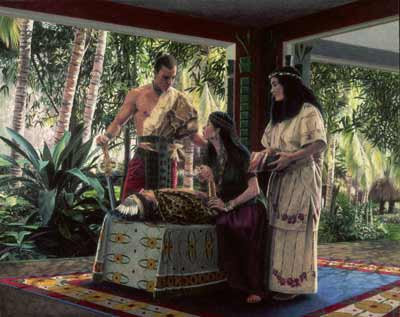 Sheri Lynn Boyer Doty
Impressed Line
Impressed Line Supplies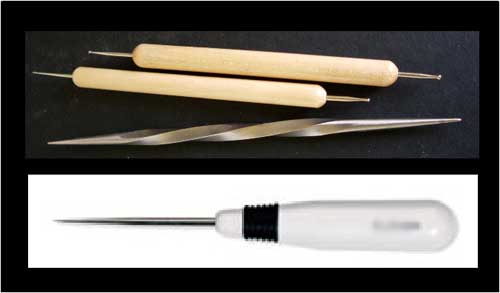 Embossing tool or ball stylus -
Except for the largest ball tip, all sizes of hand embossing tools are effective for varied impressed line techniques. There are different brands of embossing tools on the market. An etching tool for zink & copper plate or an awl for quilt tying is good for very fine impressed lines. The awl and etching tools are also good for cleaning clogged pencil sharpeners. The etching tool or an awl's tip needs to be sanded to a dull point before using as an impressing tool or it merely scratches the paper without making a big enough dent to see an impressed line.
Impressed Line -
An impressing tool makes a mark that indents or makes a grove well below the surface of the paper. With gentle shading, glide pencil strokes across the impressed marks so that the impressed line remains visible. This works well for lace, leaf veins, and background textures, etc. This technique requires a sturdy paper or Bristol board. Place cardboard under the paper to make a soft buffer between the paper and the hard table to make impressed lines marks indent more deeply in the paper. Prevent underlying papers in your sketchbook from becoming dented by using a cardboard between the pages of your sketchbook and the artwork requiring impressed line techniques. If you need to control the exact drawing lines of your impression, draw your image onto tracing paper. Then place the tracing paper over the area you want to indent. Impress your lines through the tracing paper. This will leave a pure impressed line without marring your line with tones you do not want.
(Click Image For Larger View)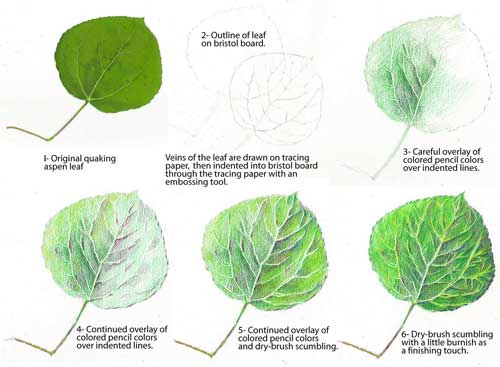 Impressed Line Example
"In the Sixth Square"
(Click Image For Larger View)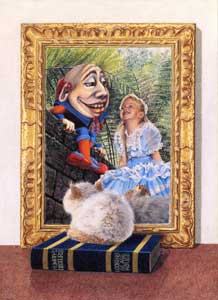 Sheri Lynn Boyer Doty
Wiskers of the cat and the words on the book are impressed line
Impressed Line Example
"Four Brothers"
(Click Image For Larger View)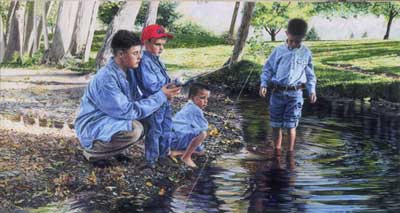 Sheri Lynn Boyer Doty
The fishing poll wire is impressed line
Under Painting of Varied Mediums
Water color, colored art markers, colored chalk and oil paint can be rubbed into a paper's surface with a brush, soft cloth or cotton ball. Various mediums can be stained into the drawing paper creating interesting backgrounds and effects over which the translucent colored pencil can be applied. The process of rendering colored pencil over other mediums can speed the artwork along. It also is a means of staining selected portions of the white paper with color rather than using an overall colored paper. (Colored markers fade, but when used by an illustrator where speed is more important than longevity and publishing is the goal, they have their advantages.) I do not us mixed media so I have no examples to show.
Colored and Toned Papers, Paper Varieties and Boards
When needing a solid background for your artwork, using a colored paper has a distinct advantage. The colored paper acts as a medium shade, and unifies elements of the composition. Because colored pencils are translucent, the paper color modifies pencil colors (especially lighter tints). Test your colors on the paper before beginning your drawing.
Papers of varied textures and absorbencies offer a variety of effects to a colored pencil under painting. Experiment with a variety of papers such as a non-absorbent bristol board verses an absorbent paper such as Reeve's BFK or watercolor papers to assess the varied affects.
Color or tone your own paper for longevity and archival preservation: Colored papers may not be archival or as durable as Strathmore 500 series bristol board. Suggestion: Use a large soft mop brush, sloppy with water, to wet down the bristle board. Then stain the bristol board with a wash of acrylic paint in whatever color or tone you wish. Make sure the acrylic paint is completely dissolved into the wash before applying it to the board. Before applying water to your paper, tape all edges of your paper down securely onto a board. Allow the paper to dry completely before drawing on your paper. Because acrylic paint is a permanent pigment, test the wash color on a piece of scrap before applying it to your board.
The following two examples are drawn by my students Nan Gray and Marilyn Neerings. I have not used colored papers, but they have gained mastery using them. I have been given permission to show their work in my colored pencil techniques lesson.
Summer Spray by Nan Gray
(Click Image For Larger View)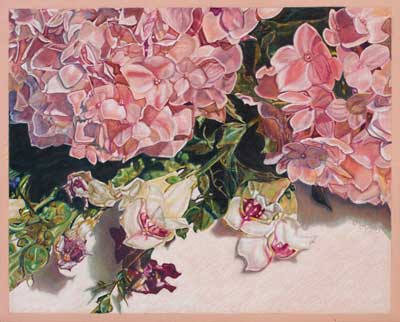 A Line in the Sand by Marilyn Neerings
(Click Image For Larger View)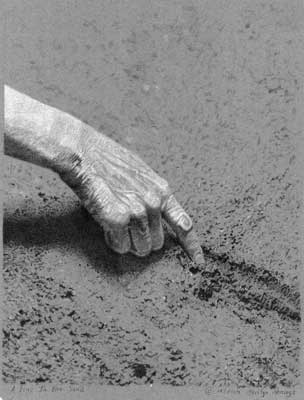 Finishing with a Fixative
A fixative is used as a finishing spray to "fix" a completed artwork. The solvent spray that holds or fixes pencil marks on the paper prevents or corrects a wax bloom on highly blended and burnished surfaces. "Wax bloom" is a chalklike residue that can appear a few hours or a few days after a rigorous color overlay or burnished surface is applied. Because a fixative is a solvent, it can change or alter some colored pencil hues. If a fixative is used heavily, it creates a glasslike surface over which it is hard to apply color. It is better to under use fixative rather than over use a fixative. If second coat of fixative can be applied if required. I also use a light spray of fixative over my preliminary light graphite drawing before colored pencil application to prevent rubbing my drawing of the paper as I work. If your graphite lines are too dark, use mounting putty to blot up dark lines, leaving a very light drawing. Then spray fixative onto your drawing. Once "fixed" the drawing is very difficult to erase.
Source Material:. I consider my own 30 years experience and experimentation with wax colored pencils as a reliable source for this list of techniques as well as dialoging with other colored pencil artists. Most importantly, my students are also my teachers. Several techniques listed here grew from student explorations. For some vocabulary clarification I referred to The Encyclopedia of Colored Pencil Techniques by Judy Martin, Quarto Publishing; The Colored Pencil , publisher – Watson – Guptill, and Basic Colored Pencil Techniques , publisher – North Light Books both authored by Bet Borgeson
Sheri Lynn Boyer Doty CPSA -Biography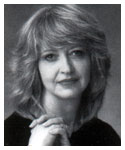 Sheri Doty received a B F A degree in 1972 from the University of Utah with a painting and drawing emphasis. Having experimented with non-representational styles during her student years, Sheri preferred classic realism as thought by professor Alvin Gittons. He and the professors, under whom she studied, emphasized strong drawing and painting skills. Sheri is a faculty member of Salt Lake Community College and Peterson's Art center where she teaches Fine Art and Design.

Sheri's paintings have earned her awards in regional, national and international art exhibitions and invitational shows including purchase awards and permanent museum acquisitions. Sanford Corporation has used her artwork to showcase its PRISMACOLOR colored pencil product line internationally. Sheri is a charter member and signature member of the Colored Pencil Society of America [C.P.S.A.].

Sheri's artwork has been published in numerous books including The Encyclopedia of Colored Pencil Techniques by Quarto Publishing, London England;Most of The Best of Colored Pencil series by Rockport Publishers, Creative Colored Pencil Techniques by Rockport Publishers, Creative Colored Pencil Portraits byri's art work is included is Rockport Publishers and The Best of Portrait Painting by North Light Books, Dear Sisters by Covenant Communications Inc. Sheri's artwork is published on book covers, in newspapers, periodicals, and exhibit catalogues.

People have been known to say, "She possesses a unique ability to paint the breath of life into her subjects – a gifted talent." Because Sheri expresses not only the likeness of her clients but also their lifestyle, her portraits are in high demand. Sheri has also has prints and greeting cards on the market.

Sheri Says:

"The art professors under whom I studied had us draw and paint from live models and "open air" studies, not from photographs. To truly see and paint a subject, I need to see it from all angles. The human eye sees so much more than what is pictured in a photograph. I am glad of the rich ridged training I received from my teachers. I have married the use of photography and live studies to create my paintings. I take my own photographs as resource material employing a variety of ways to recreate what the human eye sees. My paintings are not exact reproductions, but an interpretation of life from my view as an artist.

"Thirty years of study and experience in this field has taught me that talent isn't the reason for success in any endeavor. The keys to success are desire, perseverance and determination. But most of all, I depend on Father in Heaven's influence. When I pray about what I paint, I can feel His help and guidance."

Click to View PART ONE of the Color Pencil Drawing Demonstration Visit Sheri Lynn Boyer Doty