Wetcanvas Guest Lecture by Bonny

Overview
There is no subject more complex than trying to draw the human figure. You can try different ways to start out be it circles, sticks or even scribbles.
Some of you may wonder how I start out in my making of a character from imagination. You can learn to draw figures without models. It's creativity and imagination that are both mental ingredients to bring life to a pencil or brush, and which makes art happen. In realism or comic form, the figure offers a great challenge in lines, tones and composition.
A fairy came to mind while deciding what I was going to draw here. For this I will use a 9x12 medium tooth acid free 60# drawing paper, 2B pencil, eraser, coloured pencils and 2 sheets of blank sketch paper or print paper or any other paper that might have at hand. I use one sheet of paper to put under my drawing hand when shading, to keep from smearing or smudging my graphite.
Now getting the pose I want on paper: Sometimes I start out with a scribble if I have a figure that is in a difficult pose, then I start the form on my art paper which I draw very lightly so I can erase it after I'm done creating the form. Once I have my character I then start drawing the outline deeper. Next it's time to put in my shading and blending with the blank sheet under my hand to protect my work. After I'm done I add a light spray of fixative which dries fast, and now I'm ready with my colours. In this, I'm going with a lot of blues and greens because of the water she will be standing in. Next I take the second sheet of paper and play around with some colours and blending effects. I start on the water first and do a lot of deep hard drawing and colouring mostly on my fantasy art. I always start out with the darkest colours.
| | | |
| --- | --- | --- |
| [Click to enlarge] | [Click to enlarge] | [Click to enlarge] |
| [Click to enlarge] | [Click to enlarge] | [Click to enlarge] |
Now I have created close what my imagination wanted. Here's the form of the head from start to finish. Just remember to let loose and go as wild with your imagination as you want.
| | | |
| --- | --- | --- |
| [Click to enlarge] | | [Click to enlarge] |
What's not acceptable or interesting in other's eyes, may be your greatest creation in the end.
"My Water Fairy"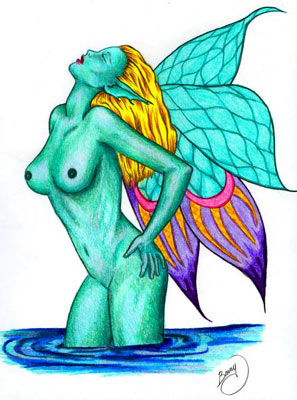 Artist's Bio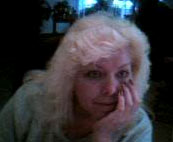 My name is Bonny; I'm 46, married and have 2 kids and 6 grandchildren.
Born and raised in Iowa for life, I always loved art. For years I always knew there was something missing and not complete in my life and knew it was my desire for art. A few years ago I started bringing my inner most imaginations to life on paper and other objects. I never had words of encouragement or thought of myself as an artist. Because I thought you had to have an arts degree or take art classes or an education. I learned this was not so when some of my family members started showing people some of my work I have done for them. I'm not experienced in the art world and I'm not well known or made great wealth off my work but I am happy and content in how far I have come now in my life.
Article, Copyright Bonny, 2005