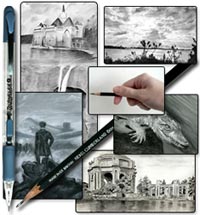 Regular visitors may have noticed a few recent changes to the ArtGraphica website. The Eiffel Tower theme has remained throughout, so chosen because I have been fortunate enough to live in Paris, within walking distance of the tower and art galleries for a number of years.
The categories of art (based on media) should hopefully make each section more distinguished, along with an improvement to the general navigation of the site, including breadcrumbs, improved right-hand side colour coded buttons and some new navigational icons.
There is a "brand new" section to the site on improving drawing and sketching skills, entitled Learn to Draw, for beginner, intermediate and advanced artists. I have to emphasise – brand new – in quotations because these lessons, along with the videos that accompany some of them, actually date back to 2004, when I was still a young whippersnapper of an aspiring artist, with a lot more free time on my hands. Whilst there is a great deal I would add and change to some of the lessons now, I still hope it will proves useful to those wishing to learn art.