How to Draw Trees
CONTENTS
GENERAL INTRODUCTION -- Painting and drawing
PART I
TREES CONSIDERED IN RELATION TO PAINTING
I. The painting of trees illustrated by a chronological series of pictures, with some descriptive notes.
II. What to look for in trees : Balance Single trees--Trees seen in masses--In groups--Composition.
III. Balance of dark spaces with light, and of large masses with small--Weight of masses and delicacy--Trees seen near and far off.
IV. Trees seen against the sky--Patterns formed by sky apertures.
V. The outline of a tree.
VI. Lines of the branches -- Curves -- Straight lines and elbows.
VII. Variety in light and shade--Variety in colour--Some causes of this.
VIII. Influence of situation--How trees adapt themselves to it --Effect of age, wind, frost, and snow--Moon­light.
IX. Associations connected with trees
PART II
THE ANATOMY OF A TREE


X.

Introductory.


XI.

Outline forms of trees--A short comparison of some species.


XII.

The likeness between twig and bough--The difference between shoot and twig--The arrangement of buds on the shoot : (1) opposite buds, (2) buds arranged singly, (3) buds crowded in groups.


XIII.

The effects produced on the branch anatomy of a tree by (1) opposite buds, the constant failure of buds ; (2) (a) buds arranged singly in two rows ; (b) in three or more rows ; (3) (c) buds clustered in groups--Twigs arrested in growth--Additional buds--Different branch systems of young and old trees.


XIV.

How a tree is built up.


PART III
THE DETAILS OF TREES


XV.

Introductory.


XVI.

Leaves --How they are set on the twigs : (a) right-angled pairs, (b) arranged singly in two rows, (c) in more than two rows, (d) leaves clustered--The position of old and young leaves--Leaf-stalks and how leaves are set on the twigs--Duration of leaves.


XVII.

Leaves (continued)--Forms of young leaves--Texture of leaves--Their colour--Leaf patterns--The margin--The veins--The planes of a leaf.


XVIII.

Flowers--The way flowers are arranged : (I) " Indefinite " inflorescence, (2) " Definite " inflorescence --" Raceme " " catkin," " capitum," " corymb," " umbel," " cyme ".


XIX.

Flowers (continued)--Shapes of flowers : " complete," " incomplete," " male," '' female," '' bisexual," " unisexual "--Trees that are " moncecious," " dicecious," " tricecious," " polygamous "--The construction of flowers.


XX.

Fruits--Winged fruits--Cones : " drupe,' " pome," " nut," " berry "--Construction of fruits.


XXI.

Lesser details:--Stipules--Bracts--Buds--Scales--Spines --Seedlings--The bark.



APPENDIX

--The Distribution of Trees in Europe.


BIBLIOGRAPHY




INDEX

to Drawings by the Author.
- to the Pictures reproduced in this Volume.
- to Letterpress.

LIST OF PLATES

I. PENCIL STUDY BY THE AUTHOR ...
II. BLAIR ATHOL. J. M. IV. Turner, R.A. ...
III. JUDGMENT OF SOLOMON. Giorgione ...
IV. LANDSCAPE. Rubens ...
V. DRAWING IN THE BRITISH MUSEUM. Guercino ...
VI. MARRIAGE OF ISAAC AND REBECCA- Claude Lorraine ...
VII. LANDSCAPE WITH FIGURES. Gaspard Poussin ...
VIII. TOBIT AND THE ANGEL. Rembrandt ...
IX. TOBIT AND THE ANGEL Salvator Rosa ...
X. RETURN OF THE ARK FROM CAPTIVITY. Sebastian Bourdon ...
XI. JUDGMENT OF PARIS. Jan Both ...
XII. RIVER SCENE : AFTERNOON. Van der Neer ...
XIII. THE AVENUE, MIDDELHARNIS. Ilobbenia ...
XIV. LANDSCAPE WITH ANIMALS. Adam Pynacker ...
XV. (i) LES CHAMPS ELYSEES. Watteau ...
(ii) FETE IN A PARK. Pater Jean Baptiste ...
XVI. LANDSCAPE WITH VENUS AND ADONIS. R. Wilson, R.A. ...
XVII. WOOD SCENE: VILLAGE OF CORNARD, SUFFOLK. Gainsborough ...
XVIII. THE MARKET CART. Gainsborough ...
XIX. THE PORINGLAND OAK. Crome ...
XX. BAY OF BALE. Turner ...
XXI. THE VALLEY FARM. Constable ...
XXII. WOOD CUTTERS. J. Linnell ...
XXIII. SOUVENIR DE LA MORTE FONTAINE. Corot ...
XXIV. LA BAIGNEUSE. Diaz ...
XXV. WATERING CATTLE. TrOyOn ...
XXVI. CROSSING THE BRIDGE. Dupre ...
XXVII. A GLADE IN THE FOREST OF FONTAINEBLEAU. Rousseau ...
XXVIII. THE PATHWAY TO THE VILLAGE CHURCH. Creswick. ...
XXIX. A PAUSE IN THE STORM AT SUNSET. Vicat Cole, R.A. ...
XXX. THE WINTER SUN. J. TV. North, A.R.A. . ...
XXXI. UNDER THE WOLD. Sir A. East, R.A. ...
XXXII. THE ROAD. G. Clausen, R.A. ...
XXXIII. IN THE MELLOW AUTUMN LIGHT. Sir E. Waterlow, R.A. ...
XXXIV. BOLTON ABBEY. David Murray, R.A. ...
XXXV. THE POOL IN THE WOOD. Mark Fisher, A.R.A. ...
XXXVI. THE HILL FARM. Rex Vicat Cole ...
XXXVII. DAWN IN WINTER. Adrian Stokes, A.R.A. ...
XXXVIII. FORT ST. ANDRE. Hughes-Stanton, A.R.A. ...
XXXIX. STUDY OF SYCAMORE TREES. Oliver Hall, R.B. ...
XL. A STUDY IN OILS. Vicat Cole, R.A. ...
XLI. STUDY OF BROKEN SUNLIGHT. Rex Vicat Cole ...
XLII. A SUMMER IDYLL. E. Stott, A.R.A. ...
XLIII. THE INTRICACY OF DETAIL. Rex Vicat Cole ...
XLIV. TWISTED LIMB OF AN OLD HOLLY. Rex Vicat Cole ...
XLV. STUDY OF FALLEN WILLOW. Rex Vicat Cole ...
XLVI. LARCHES. Rex Vicat Cole ...
XLVII. STUDY IN OILS. Vicat Cole, R.A. ...
XLVIII. TREES SEEN AGAINST THE SUN. Rex Vicat Cole ...
NOTE TO THE READER
THE ARTISTIC ANATOMY OF TREES
GENERAL INTRODUCTION-PAINTING AND DRAWING
'WE know that a fine picture cannot be described. Words tell us of the masterly way in which the subject is presented, the dexterity of the workmanship, and the excellence of the colour and drawing ; but these things, when enumerated, leave us cold and uninterested, while any attempts to resurrect the feelings of the painter while engaged on his task lead us to boredom. The emotion aroused by a grand picture may be somewhat closely reproduced by a fine prose essay, by poetry, music, or by a mood in nature herself. The higher appeal in it comes through the intuition of the artist--Non vi non dolo sed dono--the unconscious effort unacquired. The essentials for any fine work are intuition combined with a highly developed power of expression. But there is an intuition that in a lesser form is given to many. I think we know it as " taste," and this taste or good feeling which starts with a leaning to that which is best, or from a certain sympathy with nature, can be guided and improved simultaneously with the acquiring of the craftsmanship of painting. There are many possessing this taste or talent who might gain a keener enjoyment if they realised that, by training, it could be converted into a means of expression. There are others, lacking taste, who make unfortunate excursions into painting as an accomplishment. Their performance, instead of being an offence, might, if they studied appearances sincerely, be of use, and at the same time be not unpleasing. Most people can be taught to draw with fair accuracy and to acquire some degree of competency in painting. Our natural desire to imitate form should be accepted as words are, merely as another method of description. In our education drawing and writing should go hand in hand.
If drawing were universal, people would not confuse, as they now do, mere copies of nature with works of art ; but would frankly acknowledge the former as records, and judge them by the amount of interesting information they convey. A letter is useful as transmitting information, and a drawing can be the same. If your letter is nicely worded and your drawing shows taste they begin to appeal to another sense, and we say they have " style." If your intention is grand and is expressed in fine language, and your drawing conveys a grand impression, we honour them as works of art. Landscape painting is, I fancy, but little understood even amongst the educated. It does not surprise one that the yokel should eye a painting as a coloured topo­graphical inventory of his countryside and praise the performance in proportion as room is found for every well-known object, each exactly where it should be. I know a farmer much perplexed because a painting of his farm was sold for a larger sum of money than the farm itself soon after realised, and this though the pond, old Eheds, and the very ducks themselves were included. He wonders yet at the stupidity of the picture-buyer, who, by a less expenditure, could have sat by the real pond and gazed daily at his farm. Much the same attitude is assumed by the better educated when they ask, " How do you find such a beautiful place, and was it exactly like that ? " You must say it was identical, blade for blade and leaf for leaf, or your reputation as an honest man is lost. But one must not be over critical, for I have not forgotten my disgust as a boy on discovering a certain dirty ditch which had served as the foundation for a fine picture I had previously seen. Latterly, people have been reading strangely involved writings on art and ignorant criticisms of pictures. This, and their visits to some new exhibitions of canvases daubed by people of weak intellect, have led them to believe that all representations of nature as we know and love her are wrong, and they are persuaded to profess admiration only for that which no one can understand. If we consider some of the aims that every true artist owns, we may gain a more tolerant attitude towards his work, even though it does not conform to our pre­conceived notions of what a picture should be like ; it may help us to appreciate many of the different forms in which good art is presented to us, and to weed out work of ability that perhaps is not immediately understood from that which is claptrap.
Since an artist appeals to the intelligence and to the emotions, his work can only give real pleasure to those in whom it arouses a consciousness of beauty similar to his own perception. For this reason a picture may give intense pleasure to some, while others are unable to receive the meaning, and, for want of understanding, are apt to dub it a worthless performance. The feeling for beauty (The word "beauty" is not used in this book in the same sense as "pretty.") in its best sense is conveyed in so many ways--by colour, by light and shade, by line, by pattern, and by technique ; and any or all of these become the visible means for explaining the deeper feelings that influence the painter. One, or a combination of these, cannot attract everyone, equally, but only those whose perceptions are most keenly excited by the particular means selected. Even to those means to which we are less sensitive we can give credit, if not love, if they are well employed. Of the various means at the disposal of a painter, colour seems to have the greatest power of attraction. As children we are interested by colours rather than by forms, and we retain this impulse throughout life--only we temper it by a new desire for a pleasing arrangement of colours.
Our instinct for colour becomes acuter, even though we have learned to see the dignity in masses of light and shade, or to appreciate the rendering or suggestion of form by lines. I fancy our minds are interested in form, but our nature is excited by colour. How few people, however, really appreciate good colour ! The majority are content with any colour, so long as a picture resembles the obvious in nature or tells a tale ; and for this they can even tolerate colours that are lifeless or discordant. Colour seems so much more elusive than form. Fine colour can only be felt, though fine shape can be described. Artists are conscious of very definite laws that govern good colouring, and yet colour is so subtle that the introduction of a new element upsets any scheme, and nearly every picture presents a new colour problem. The sense of mastery over fine colour seems to come to the painter last of all and to leave him at the first note of failing powers. How much its elusive charm is connected with the technique of paint­ing will be felt by everyone who has used oil colours. In water colours there is less excuse for bad colouring. If the scheme is a sound one, plain washes of colour can be relied upon by their transparency for a pleasing effect, though identical colours in oils would require very deft management to prevent their becoming repulsive. Those who have not practised painting use the term " A good eye for colour," meaning that we are born with this as an unalterable gift. We must grant that there is a considerable difference in the acuteness of perception for colour amongst youngsters, just as there is a quick or slow recognition of form ; but the science of colour must be studied with even greater zeal than drawing, if a student is the least bit ambitious of fame. It would he interesting to know in what degree the difference in appreciation of colour is due to physical causes. Simple colours have so different an effect upon people. One man I know must laugh with the exuberance of his joy--he cannot help it--when he passes a field of poppies blazing in the sun ; to another it simply gives a headache. We all know that in bad health we can only bear the sight of the most subdued and cleanest of single tints, when at other times we may delight in mixed colours of oriental splendour.
In a picture light and shade is as important as colour in awakening our consciousness to that which is grand. The power of attraction (and it is boundless) in finely spaced quantities of light and dark is to me inexplicable ; perhaps it can be explained by the sense of bulk and mystery that they convey. On first seeing a picture by Rembrandt (or better still for this purpose a good black and white reproduction) it is the effect of light and shade that makes us catch our breath in the sudden revelation of beauty long before our minds have had time to take the meaning. A simple experiment will convince you how much a picture depends for dignity upon the distribution of light and dark. Take a few commonplace objects of everyday life and arrange them exactly in the lighting of some well-known picture, in looking at which you had taken for granted that its interest lay in its subject. If you now sketch these in masses of light and dark, with your eyes somewhat closed to exclude petty details, you will find these objects acquiring an interest, and even a dignity, previously unassociated with them. If you can add to your black and white sketch a good colour arrange­ment, you surprise yourself into the knowledge that all objects are worthy of pictorial treatment ; and the greater doubt is born whether all people are worthy to treat them.
For an artist, everything is capable of being used as a theme--an outlet for his joy in living and seeing--and his pictures are but expres­sions of his own moods conveyed to us through the things he represents. For his purpose he has no better agents than colour and this spacing of light and shade.
Drawing that does not include colour can be divided into (1) drawing by masses, (2) drawing by lines. It would be foolish to attempt rigid distinctions ; but usually we find that mass drawing appeals to the deeper emotions and line drawing to the intellectual senses. This may be caused by the association and suggestion of colour that is inseparable from drawing in mass.
In mass drawing, light and shade, texture and form of objects, their colour and influence on one another, all play their part. It is the orchestration in black and white art. while other branches serve as single instruments. Drawing in lines is for the most part used for two very different purposes--(1) as a hasty record of action or construction (also as a basis in the composing of a picture) ; (2) as a completed picture within the limitations of black and white. As an expression of action it is unrivalled. Single lines compel our undivided attention, and we feel the rhythm of the line and enter into the action of the scene immediately. The fewer the lines, the more powerfully our interest is focussed. How intensely interesting are the hurried notes of a painter showing us the essential lines and what they conveyed to him, or the completed study that we delight in, such as a Caldecott drawing and the drawings of many fine draughtsmen who have made Punch almost a necessity for us !
As a basis of a picture lines serve as a backbone, strengthening and connecting separate objects. The building up of a picture by lines restrains an impulsive love for colour and effect, which by themselves might make our work (though beautiful) quite unintelligible.
The second type of line drawing--I mean the one giving a completed rendering of form as well as the light and shade, which may, or may not suggest the colour of objects--is I think the least emotional of all art expressions. Having little of the dash or grand isolation of single lines, it exacts from us a more prolonged mental effort ; it has to be read, as it were, to be fully appreciated. Its charm is not spontaneous ; we read it and read it again, each time discovering a new pleasure in the evidence of searching inquiry by the painter, and recognising the mastery over materials that can bring scenes of life to us with such elemental tools as pen and paper.
The use of pattern or design is, in the minds of many, associated only with its application to work that is purely decorative. In this service we should expect it to be better appreciated than some other forms of art, for is it not a daily rule of our life to demand some order and arrangement in everything about us ? Our gardens, houses, furniture, and trappings of the room have to conform to laws of decoration, and we are familiar with, if not expert, at such making of order.
Fewer people, however, understand that design is the main basis of all pictorial art ; while others concede this to figure painting, but have not considered it in relation to landscape work. It is just this feeling for decorative design that always distinguishes the work of an artist from the mechanical imitator of nature. The side issues of whether much or little detail should be included in a landscape, or whether it should be highly realistic or not, are legitimate paths of divergence, and matters to be settled by the temperament of the painter, or the exigencies of the particular subject ; but whichever path he follows, his work, if it is to be art at all, must be moulded on and regu­lated by design. This is not an attempt to justify paintings where decoration is obtained at the expense of nature ; we have but to refer to nature herself to satisfy our desire for pattern--it is everywhere. Sky, trees, earth, and water teem with it ; our difficulty lies in selecting and making the whole scene a decoration, giving each part pattern without distortion and without mauling the face of nature.
Worship of nature, together with enthusiasm for art, are our only guides, but the love of truth should help to check excesses.
This is a most inadequate sketch of the main features that we look for in landscape art. The use of colour, light and shade, line and pattern have been touched upon, and I have intentionally placed technique last in the list of those means by which a painter can bring home to others some of the power in nature that he worships. I have placed it last, as no one possessing that reverence for nature which should be the mainspring in our desire to paint, could be content to represent her except in the best possible way of which he is capable. His self-esteem as a craftsman goads him on to overcome the difficulties in handling his tools. There is a fascination in the technical side of his art that enables a man to bring his work to completion. Without it he would stop short so soon as the excitement he experienced on first tackling his subject had subsided ; and our picture galleries would be full of sketches. So engrossing is this wish to do things well that a painter in spare moments may be found exercising his ability upon the most ordinary objects, and the world is enriched by beautiful renderings of these. A young student, but newly conscious of the difficulty in technique, is apt to become enamoured of work which displays a super­ficial dexterity. It is fortunate for him if he fails to acquire it, or it is likely before long to become his master instead of his servant. But I cannot resist here quoting at some length what Sir Joshua Reynolds has said :
"A lively and what is called a masterly handling of the chalk or pencil,' are, it must be confessed, captivating qualities to young minds, and become of course the objects of their ambition. They endeavour to imitate these dazzling excellencies which they will find no great labour in attaining. After much time spent in these frivolous pursuits the difficulty will be to retreat ; but it will then be too late ; and there is scarce an instance of return to scrupulous labour, after the mind has been debauched and deceived by this fallacious mastery..."

* 1 By this He uses the word pencil where we now say brushes.

"...useless industry they are excluded from all power of advancing in real excellence. Whilst boys, they are arrived at their utmost perfection ; they have taken the shadow for the substance, and they make the mechanical felicity the chief excellence of the art, which is only an ornament, and of the merit of which few painters themselves are judges. . . . But young men have not only this frivolous ambition of being thought masters of execution, inciting them on one hand, but also their natural sloth tempting them on the other. They are terrified at the prospect before them, of the toil required to attain exactness. The impetuosity of youth is disgusted at the slow approaches of a regular siege, and desires from mere impatience of labour to take the citadel by storm. They wish to find some shorter path to excellence, and hope to obtain the reward of eminence by other means than those which the indispensable rules of art have prescribed. They must therefore be told again and again that labour is the only price of solid fame, and that whatever their force of genius may be, there is no easy method of becoming a good Painter."
These were the words Reynolds used in 1769 in his address to the students of the Royal Academy. I doubt if any President could do better than repeat them to the present-day student.
It seems at first sight as if in these notes I had excluded the chief weapon of art--Composition ; but the word composition is likely to be misunderstood as applying to some worn-out conventions of prettiness instead of being understood as it should be--to mean arrangement. Composition, then, means arrangement of colour, of light and shade, of individual objects and the arrangement of each separate part, so that, though retaining interest of its own it is still subservient to the main scheme on which the picture is planned. Selection and arrangement are the life-blood of a picture. Anyone who neglects them is no artist. No artist could neglect them.
My intention thus far has been to combat the too prevalent idea that any pleasing subject in landscape, if exactly copied, will make a good picture. A mean copy of form and colour that misses the essence of the scene is less interesting than a photograph, for the lens gives more form and detail, and you are dull if you cannot find something in the photograph to think about, but the lens does not give us art. A simple copy of a scene, if it is done with correctness, may by chance recall some associations of nature that will be supplied by those who will see the study ; but it is the business of the artist to give pleasure and to instruct, and not to rely upon the more subtle perceptions of others.

A painter should be able to make a good picture of any subject, but it is done, not by a literal statement of formations, but by work which shows his appreciation of the nature of the scene--its dignity, or repose, the desolation of it, or its association with human beings. Perhaps its individuality must be insisted upon ; or lost in a larger idea that is suggested by a mood of nature, the heat of the day, the softness of the spring air, or the gales of autumn. The difference between the exactly copied landscape that shows no appreciation and one that has a meaning to back it, is the same as between a guide-book and a Walter Scott novel. There is no need to force a pretended significance of something that is absent, or to presume any drastic alterations. It is better that you should try and see how much good is there ; and by seeing it you will almost unconsciously emphasize it, and by a legitimate exaggeration influence others to see it also.
To sum up these notes then, a landscape picture must be a decoration for a wall, its colours arranged on a harmonious scheme and applied with surfaces of pleasing qualities, its pattern of light and dark a grand one. The individual parts must be interesting each in its place, and must help to build up the beauty of the whole. Above all, the senti­ment must be strongly stamped upon it. This is the picture an artist aims for, and his aim being high, if he fails there will still remain something beyond the commonplace in his work. The means he uses have been touched upon chiefly in the hope that some of the time spent on the neatness of pretty sketches may be devoted to thought and higher ideals.
Those who are not in the profession may retort that they are not giving up their lives to painting, and if such excellencies are demanded they would be debarred from an engaging pastime. This need not be so, for sketches, however slight, if they show some insight into nature, and the aim of the performer has been consistently adhered to, are worthy of respect, and the more successful of these will give great pleasure.
Turning from picture-making to work that is frankly a record of things seen and understood, we come to a branch of art inseparable from education. While looking at a photograph we learn just that much which we should have learned by looking at the object itself, though perhaps in a more convenient form.
If we examine a drawing we see the object itself through the brain of the draughtsman. His knowledge has already emphasized the important points for study by a previous separation of the trivial and accidental from the essential form belonging to the type. We make use of his brain, in addition to our own, and when we refer to the object again we can add new knowledge with greater ease. There is also a charm in such drawings that comes from their appreciation of truth and beauty.
It is the idea suggested by nature and art that an artist has to paint ; an intelligently truthful copy of selected parts of nature enables him to do so.
PART I TREES CONSIDERED IN RELATION TO PAINTING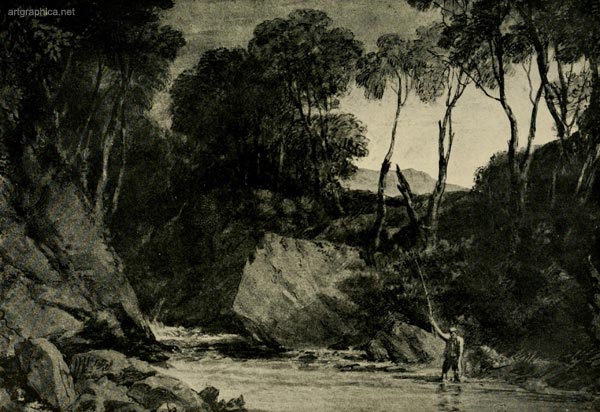 Plate II BLAIR ATHOL (LIBER STUDIORUM). J. M. W. TURNER, R.A.


CHAPTER I THE PAINTING OF TREES ILLUSTRATED BY A CHRONOLOGICAL SERIES OF PICTURES, WITH SOME DESCRIPTIVE NOTES
THEODORE ROUSSEAU was able, in the painting of a single tree, to impress us with the greatness of nature--with her very soul, if one may use the expression. In looking at his tree we are not disturbed by wondering whether it is an Oak or an Ash or botanically correct. We are content to look at it and come away, feeling that we have seen some­thing grand and without a wish to analyse it. Sometimes out of doors we may see a tree which will excite the same feeling ; but genius is given to few, and any attempt to depict on canvas the feeling we experience, unless it is backed up by a knowledge of construction, results in flabbiness--as is too often seen in the imitators of Corot. We cannot see with other men's eyes, but we can study what they look for. By sonic our tree will be shown to us as a mere outline, but even that alone can express the severity or rhythm of its lines--lines that would give us pleasure in anything, but here give us the grace, dignity, or strength, as it may be, of the particular tree. Others will wish us to appreciate the tree as a bulk, and will accentuate its statuesque quality in which all details are submerged. Others, again, will find out wonderful shapes, and through them will appeal to our love of pattern, successfully as they extract its complete structure and intricacy of detail.
Constable painted his leaves with the real light of the sky upon them, and they had a rugged homeliness about them free from all convention.
Turner, with a larger view, and strengthened with his absolute knowledge of their construction, used trees at will, weaving magnificent compositions with them as in his " Cephalus and Procris " and " Near Blair Athol " of the Liber Studiorum (Plate II). He utilised them for every device at the command of art ; in one place as bits of light or dark, in another as links between single forms ; here as a piece of delicate leaf tracery like lace work seen against the sky, there as massed spaces...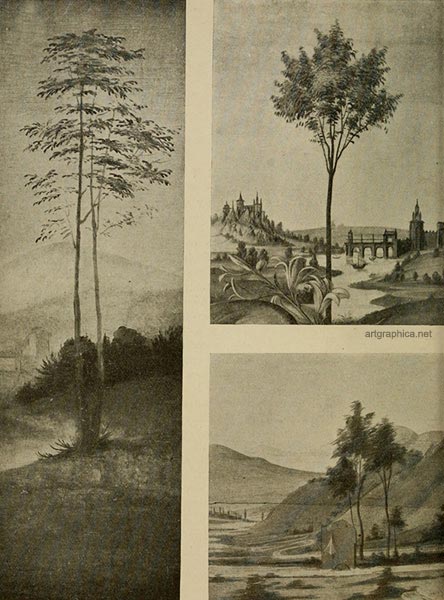 ILLUS. 1. PHOTOGRAPHS FROM PORTIONS OF THE PICTURES (1) VIRGIN AND CHILD AND THE INFANT ST. JOHN--Fra Bartolomeo (2) L'ANNUNZIAZIO.NE--Botticelli (3) VENUS AND CUPIDS--Sellaio



...of heavy foliage leading into the gloom. Sometimes his tree was a portrait, at others a specimen of the type--often a type evolved from many species--simply a tree--but nevertheless a possible tree. Whether it was the subtle undulations of the foliage or the severity of the lines of the trunks, he had a use for them. To him nothing came amiss ; his sunlight shimmered on the leaves or poured through them in broad shafts of light ; his branches stretched out from the trunk mixing in the blue of the sky : no detail was too trivial to make note of, not even the seams or the roughness of the bark or the single leaves and twigs that he drew so well.' (1)

From Titian and Patinier, the Fathers of landscape painting, to Cecil Lawson, we recall the names of those who have treated trees each in his own individual way. Titian, Giorgione, Rubens, Claude, Rem­brandt, Poussin, Salvator Rosa, Hobbema, Wilson, Gainsborough, Crome, Girtin, Turner, Constable, Cotman, Cox, Corot, Gtreswick, Diaz, Troyon, Muller, Rousseau, Daubigny, Monticelli, Cecil Lawson. To discuss adequately their points of view and their methods would require another book by another pen, but just to name them seems to brighten our minds and stir us to effort. But our list should start with the Primitive Italians with their precise and delightful little trees painted in such an ingenuous way

* 1 Turner's delicate drawings of still life on a minute scale that have been brought to light recently seem to have astonished some people who had over­looked his refined vignettes for book illustration.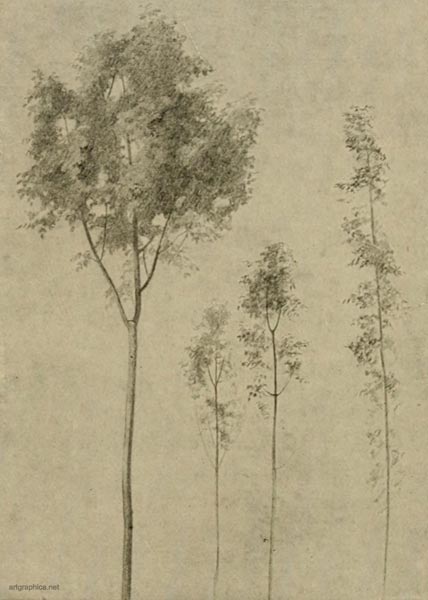 ILLUS. 2. A SKETCH OF SOME YOUNG TREES -- Notice the likeness between the one on the left and Botticelli's tree



...with an infinite loving care. Their desire for an art, as something separate and different from ordinary life, seems to have guided them in the selection of just those trees that would satisfy it completely. Their trees were not, as some suppose, thought out formally, but were I truthful copies of such as we find in our own copses today in the young( trees that have been spared after the cropping of the underwood.
Here are three of them sketched the other day--just such as might have been taken as models in the fifteenth century, when they would have been beautifully painted ; leaf after leaf standing out dark against a sweet clear sky. Their appreciation of delicacy, and the nice dis­position of the little blocks of foliage up the stem might well be followed, instead of the formality in untruthful ugliness that is conjured up by some of our illustrators today. Another form is a compact and dense little tree covered with separate leaves as in the background of " The Virgin adoring the Infant Christ " by Lorenzo di Credi (Illus. 3). They are delightful, though in truth they resemble shrubs. These are the chief forms of trees that are associated with the paintings of that period, but that other aspects were also used then is evident from Giovanni Bellini's painting of a wood in the picture, " The Death of St. Peter, Martyr." The same exactness in copying the leaves is there, but the wood has depth, and the trunks give out branches on all sides, some towards us, others receding into the wood. The saim veneration of nature even in her details is shown in the realistic paint­ing of a lemon tree in the picture, " The Madonna, Infant Christ, and St. Anne," by Girolamo dai Libri, in the National Gallery.

The work of some painters becomes more interesting if we're member when it was that they lived. Here is a list of those we mention :
A LIST OF ARTISTS MENTIONED IN THE TEXT
| | | | |
| --- | --- | --- | --- |
| Popular Name | Name in Full | Nation | Date |
| Bellini | Giovanni Bellini | It , Ven. | *1428-1516 |
| Sellaio | Jacopo del Sellaio | It., Floe. | 1446-1493 |
| Credi | Lorenzo di Andrea d'Oderigo Credi | It., Flor. | 1457-1537 |
| Fra Bartolomeo | Bartolomeo di Pagholo del Fattorino. | It., Flor. | 1472-1517 |
| Girolamo dai Libri | | It., Verona | 1475-1546 |
| Giorgione | (also called Barbarelli del Castel-Franco) | It., 'Wen. | 1477-1510 |
| Titian | Tiziano Vecellio | It., Ven. | *1477-1576 |
| Franciabigio | (also known as Francesco or Francia Bigio) Francesco di Christofano | It., Floe. | 1482-1524 |
| Patinier | Joachim Patinier | Dutch | 1485-1525 |
| Carracci | Annibale Carracci | It, Bolog. | *1560-1609 |
| Rubens | Sir Peter Paul Rubens | Flemish | 1577-1640 |
| Guercino | Giovanni Francesco Barbieri | It., Bolog. | 1591-1666 |
| Poussin | Nicolas Poussin | French | 1594-1665 |
| Claude Lorrain | Claude Gellee | French | 1600-1682 |
| Neer | Aart van der Neer | Dutch | 1603-1677 |
| Rembrandt | Rembrandt Harmensz van Ryn | Dutch | 1606-1669 |
| Both | Jan (or Johannes) Both | Dutch | *1610-1652 |
| Poussin | Gaspard Dughet | French | 1613-1675 |
| Rosa | Salvatore Rosa | It -Neap. | 1615-1673 |
| Bourdon | Sebastien Bourdon | French | 1616-1671 |
| Wynants | Jan Wynants | Dutch | *1620-1682 |
| Pynacker | Adam Pynacker | Dutch | 1622-1673 |
| Ruysdael | Jacob van Ruisdael | Dutch | *1628-1682 |
| Hobbema | Meindert Hobbema | Dutch | 1638-1709 |
| Watteau | Antoine Watteau | French | 1684-1721 |
| Pater | Jean-Baptiste-Joseph Pater | French | 1696-1736 |
| Boucher | Francois Boucher | French | 1703-1770 |
| Wilson | Richard Wilson, R.A. | English | 1714-1782 |
| Gainsborough | Thomas Gainsborough, R.A. | English | 1727-1788 |
| Fragonard | Jean Honore Fragonard | French | 1732-1806 |
| Crome (" Old ") | John Crome | English | 1768-1821 |
| Girtin | Thomas Girtin | English | 1773-1802 |
| Turner | Joseph Mallord William Turner, R.A. | English | 1775-1851 |
| Constable | John Constable, R.A. | English | 1776-1837 |
| Cotman | John Sell Cotman | English | 1782-1842 |
| Cox | David Cox | English | 1783-1859 |
| De Wint | Peter De Wint | English | 1784-1849 |
| Nasmyth | Patrick Nasmyth | Scotch | 1787-1831 |
| Linnell | John Linnell | English | 1792-1882 |
| Corot | Jean Baptiste Camille Corot | French | 1796-1875 |
| Diaz | Narcisse Virgile Diaz de In Pena | French | 1808-1876 |
| Troyon | Constant Troyon | French | 1810-1865 |
| Creswick | Thomas Creswick, R.A. | English | 1811-1869 |
| Muller | William John Muller | English | 1812-1845 |
| Dupre | Jules Dupre | French | 1812-1889 |
| Rousseau | Pierre Etienne Theodore Rousseau | French | 1812-1867 |
| Daubignv | Charles Francois Daubigny | French | 1817-1878 |
| Monticelli | Adolphe Monticelli | French | 1824-1886 |
| Foster | Myles Birket Foster, R.W.S. | English | 1825-1899 |
| Haden | Sir Francis Seymour Haden, P.R.E. | English | 1818-1910 |
| Millais | Sir John Everett Millais, Bart., P.R.A. | English | 1829-1896 |
| Leighton | (Frederic) Lord Leighton, P.R.A. | English | 1830-1896 |
| Cole | George Vicat Cole, R.A. | English | 1833-1893 |
| Walker | Frederick Walker, A.R.A. | English | 1840-1875 |
| East | Sir Alfred East, R.A., P.R.B.A. | English | 1849-1913 |
| Lawson | Cecil Lawson | English | 1851-1882 |
| Forbes | Elizabeth Stanhope Forbes, A.R.W.S. | English | 1859-1912 |
| Pickering | J. L. Pickering, R.O.I., R.B.A. | English | 1912 |
| Birch | S. J. Lamorna Birch, A.R.W.S. | English | |
| Brickdale | Eleanor Fortescue Brickdale, A.R. W S. | English | |
| Cowper | P. Cadogan Cowper, A.R.A. R.W.S | English | |
| Clausen | George Clausen, R.A., R.W.S. | English | |
| Davis | H. W. B. Davis, R.A. | English | |
| Fisher | Mark Fisher, A.R.A. | English | |
| Ball | Oliver Hall, R.E. | English | |
| Harpignies | Henri Harpignies | French | |
| Monet | Claude Monet | French | |
| Murray | David Murray, R.A.,A.R.S.A, A.R.W.S. | English | |
| Parsons | Alfred Parsons, HA., P.R.W.S. | English | |
| Beckham | Arthur Rackham | English | |
| Stanton | H. Hughes Stanton, A.R.A. | English | |
| Stokes | Adrian Stokes, A.R.A. | English | |
| Shaw | Byam Shaw, A.R.W.S. | English | |
| Steer | P. Wilson Steer | English | |
| | | | * Dates uncertain. |