Advanced Landscape Drawing
CHAPTER XX
FRUITS
IN full Summer-time the ground under the Elms is carpeted as with fallen green leaves : these are the winged fruits that have hung in clusters, unnoticed except on the leafless twigs in Spring, when one might have mistaken them for foliage. In Winter, Ash " keys " (often retained throughout the cold months), as well as the cones of the Alder and the threaded balls of the Plane, are conspicuous among the naked boughs. In Spring the curious leaf-like bracts protecting the seed of the Hornbeam give an added fulness to the young foliage. These, in their way, change the trees as much as do the gay colours of the fruits on Holly, Hawthorn, Rowan, Apple or Yew. Some trees one can hardly name without thinking of their fruitage--Walnut, Horse Chestnut, Spanish Chestnut, Hazel, Cherry, Oak, and the Larch, the Scots Pine and th3 Spruce with their cones. The fruits of trees may be remembered by separating them into two divisions : (1) Those that have wings or have the seed attached to hairs or tufts of down, as a means of dispersal by the wind ; (2) those sought for as food by birds and animals, and thus carried away. The fruits of these two divisions envelop their seeds in various outward forms. Some of the winged seeds are protected by cones ; others merely by the wing itself, or are attached to a bract. Some have a hard shell or husk ; but the greater number have a more or less fleshy covering. In the latter, the seed itself is protected by a strong wall embedded in the centre of the flesh.
(1) Winged fruits. -Winged fruits are noticeable features on six of the forest trees--the Maple, Sycamore, Ash, Elm, Hornbeam, and Lime. The seeds of the Pine and Fir are also attached to wings, but they remain hidden in the cones up to the time of their dispersal ; and the winged seed cf the Birch forms part of a catkin. A winged fruit is called a Samara, and each membranous wing encloses one seed. Some of these fruits have very similar forms, notably that of the Sycamore and Maple (Illus. 136 and 137). In these, a rounded seed is enclosed by the membrane at the base of a flat semi-transparent wing. One fruit stalk supports two of such winged fruits, which are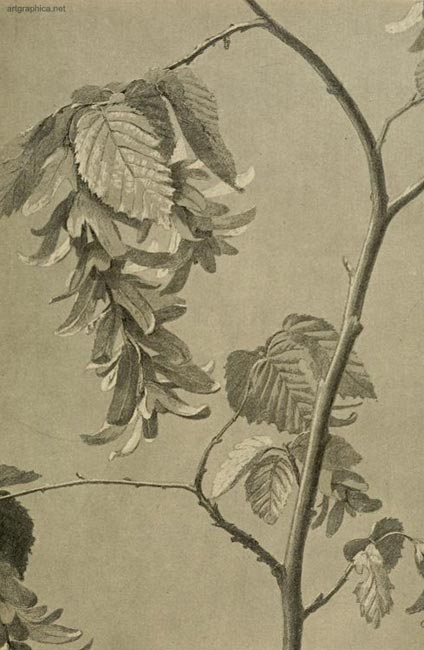 ILLUS. 135. EXAMPLE OF WINGED FRUITS--FEMALE CATKINS (FRUITS) OF HORNBEAM
(See Chap. XIX, Illus. 129, of male catkins)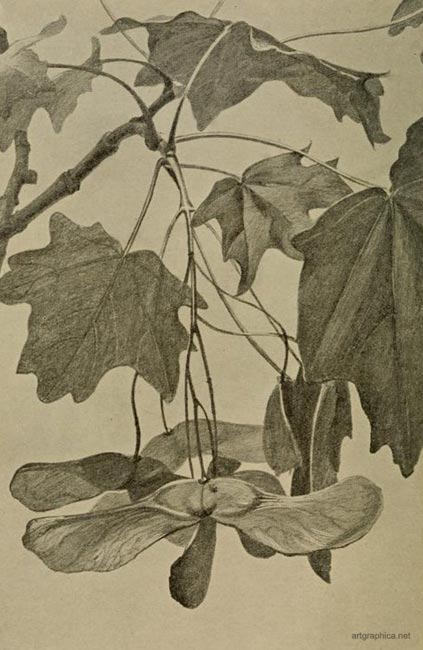 ILLUS. 136. WINGED FRUIT (SAMARA) OF THE FIELD MAPLE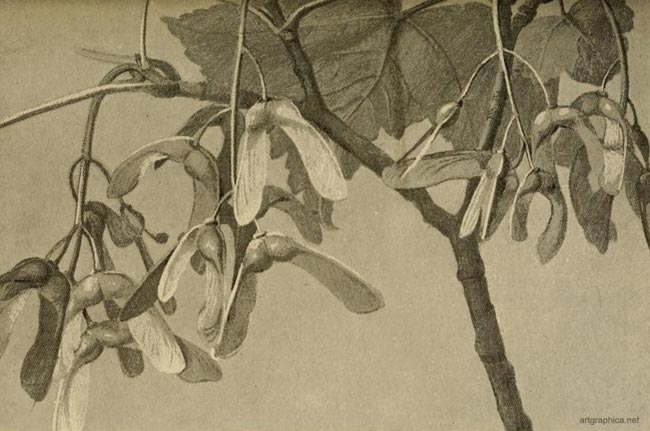 ILLUS. 137. WINGED FRUIT OF THE SYCAMORE
detachable at their junction. They spread out from the stalk after the fashion of a butterfly wing. Those of the Field Maple are the most outspread, and have their junction more completely covered by the base of the wing. Occasionally we find three fruits, instead of a pair, supported by one stalk. Their green colour changes, before they ripen, to beautiful tints of pink and crimson. The pointed Ash seed is carried singly at the base of a twisted wing to spin it on its way : the Birch by a pair that resemble a horse shoe in form. The Elm seed lies in the centre of a nearly circular plate (Illus. 138). The seed of the Hornbeam is carried by a three-lobed serrated bract of leafy texture. The fruits of the Lime (Illus. 139), in small clusters, have their pedicels united to a long pendent stalk to which a thin yellow-green entire bract is attached for nearly half its length ; this wing--unlike those of the other trees--has to carry the whole bunch of fruits.
Seeds provided with hairs.--All the species of Willows (botanists enumerate about thirty, I believe) and Poplars have the female flowers collected together in catkins. The seeds are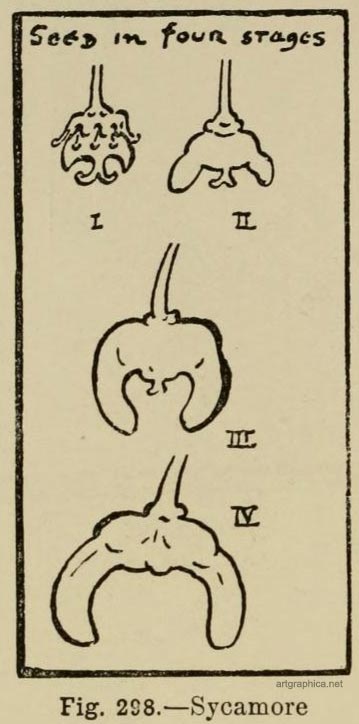 provided with a tuft of silky hair enabling them, when set free, to be caught by the breeze. One of these trees, bearing female catkins, will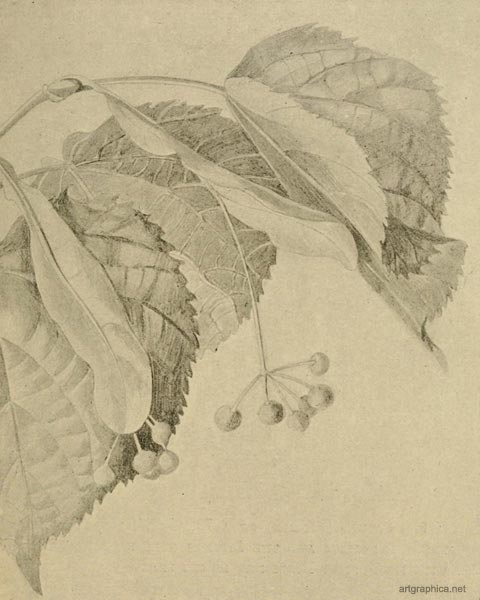 ILLUS. 139. EXAMPLE OF WINGED FRUIT--LIME TREE
A drawing of the flower is given Chap. XVIII
cover everything around it with the down that envelops the seed.'
* 1. Illustration, Chap. XV
The drawing of one of the small Willow trees shows how the stigmas curl back ; also how the style splits when the seeds are liberated.
Cones.--The female flower-cones of the Scots Pine, Spruce, and Larch, though differing in appearance, are all constructed on the same plan--that of a number of overlapping scales in spiral order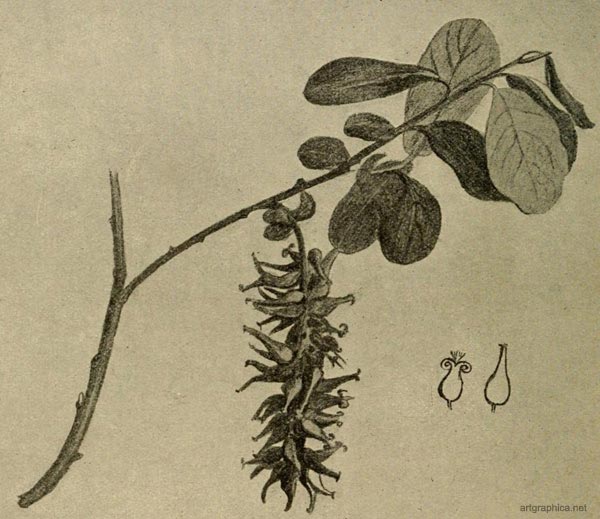 ILLUS. 140. CATKIN (FEMALE) OF A LESSER WILLOW SHOWING HOW THE STYLE SPLITS AND THE STIGMAS CURL BACK THAT THE SEED WITH ITS TUFT OF HAIRS MAY BE SET FREE
attached to a central axis. On the inner side, at the base of each scale, are the ovules, and on these the pollen falls. These young cones stand stiffly out from the branches, and are beautiful in colouring (Illus. 141). Those of the Spruce are waxen in texture and soft, tinted green and bronze pink ; the scales at first stand out or droop towards the base to facilitate fertilisation ; they soon become harder, however, and point to the tip of the cone. The mature cone reaches six inches in length, and becomes pendent. The mature cones differ in many respects in the different species. Those of the Silver Fir are held upright, while those of the Spruce and Hemlock Firs hang (Illustration 142). The latter are only one inch in length to the five or six inches of the Spruce, and their cones drop to pieces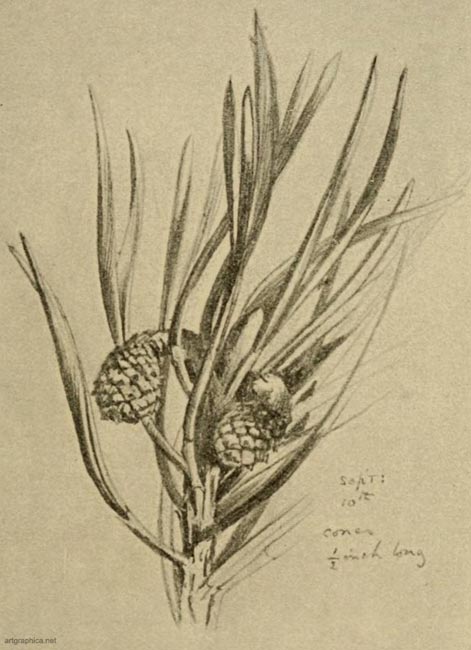 ILLUS. 141. YOUNG CONES OF SCOTS PINE
after the seeds are dispersed, while Spruce cones fall unbroken. The tips of the scales in the Scots Pines become knobby--making an em­bossed pattern over the cone, and finally woody--in texture before the scales drop apart.. Spruce cones, on the other hand, have smooth scales, and taper to a blunt end. The cone of the Silver Fir has the most cylindrical form. That of the Spruce tapers gently to bluntness at both ends, while that of the Scots Pine is more egg-shaped. It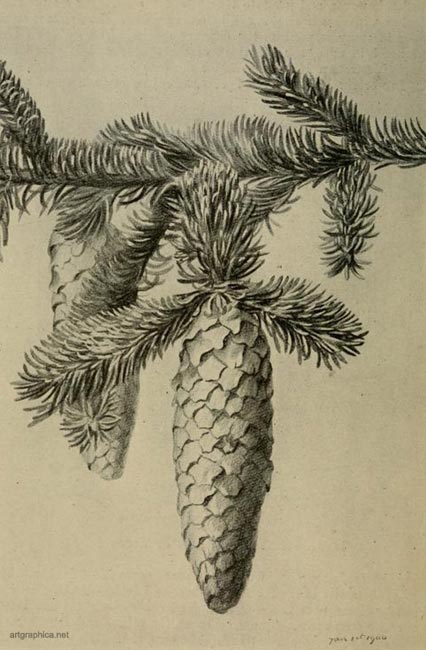 ILLUS. 142. EXAMPLE OF CONE-SPRUCE FIR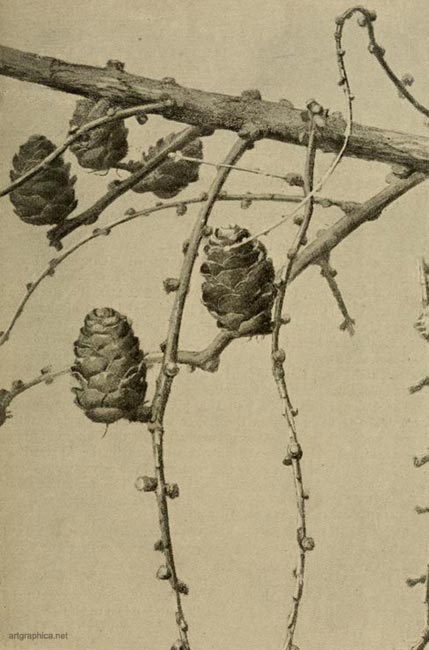 ILLUS. 143 OLD LARCH CONES IN WINTER
should be remembered that the scales of cones are furnished with bracts at the base on the outer side. These are often hidden by the overlapping of the scales, but in some of ornamental conifers they are longer than the scales themselves. The wing to which Pine seeds are attached is a part of the carpel scale on which the ovules grew. The Alder also has the female flowers clustered in a small cone. The bracts become woody, and remain on the tree after the seed has dropped.
(2) Fruits which have no wings.--We have accounted for six species that have noticeable winged fruits ; also for two genera (Pines and Firs) and one species (Alder) whoSe winged fruits are hidden in cones ; two genera (Willows and Poplars) that congregate fruit provided with hairs ; and one (Birch) with wings in catkins. The remaining sixteen species bear fruit in which the seed is enclosed in an edible covering, or the germ is enclosed by edible seed leaves that constitute the fruit. It adds to our interest in these fruits if we follow their transformation from a flower. These fruits have been named " Drupe " ; Pome ; Nut ; Berry.
The Drupe (Illus. 144, 143, 147, pp. 291, 292, 294) is a stone fruit constructed from a single carpel. The original layers of the ovary walls--enlarged after fertilisation--form the skin, flesh, and stone respectively, the kernel being the seed ; these normally contain one seed, sometimes two. Examples are Cherry, Blackthorn, Plum, Peach, Walnut, and Yew. Fruits formed of a compound pistil are also included --example, Buckthorn and Come!.
The Pome (Illus. 149, 150, 151, pp. 296-98) is made up of a large body of flesh, that in the flower was the receptacle that has overgrown the carpels, these carpels remaining in the fruit and forming the core, inside which are the pips or seeds, as in the Apple, Pear, and Hawthorn. In some cases the remains of the calyx tips protrude from the end of the fruit farthest from the stalk. The illustration shows this, in the formation of a pear. The lobes of the calyx are a conspicuous feature also on the Medlar fruit.
The Nut (Illus. 153, 154, pp. 300, 301)--examples, Acorn, Beech nut, Hazel nut, Spanish Chestnut--has one cell and seed, though it is usually formed from an ovary that contained two or more cells with one or more ovules in each. For instance, the flowers of the Oak, Beech, and Spanish Chestnut have a three-celled ovary constructed by three united carpels, and each cell contains two ovules--only one of the seeds, however, comes to maturity. The cup enclosing the base of the acorn is made up of the scales that surrounded the base of the flower united into one form. The leafy cup of the Hazel nut is also formed by the union of the bracts that supported the flower. The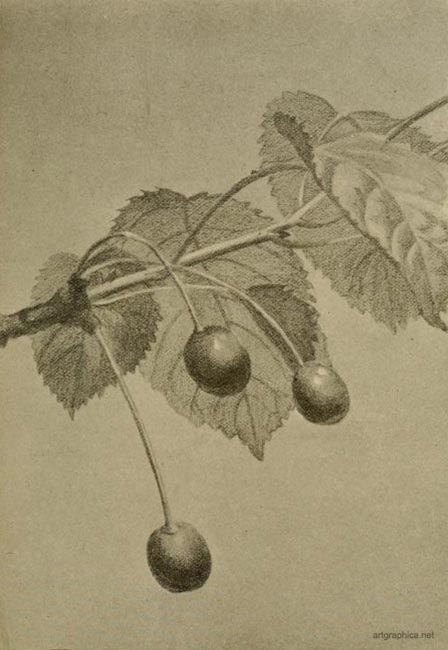 ILLUS. 144. EXAMPLE OF DRUPE-THE CHERRY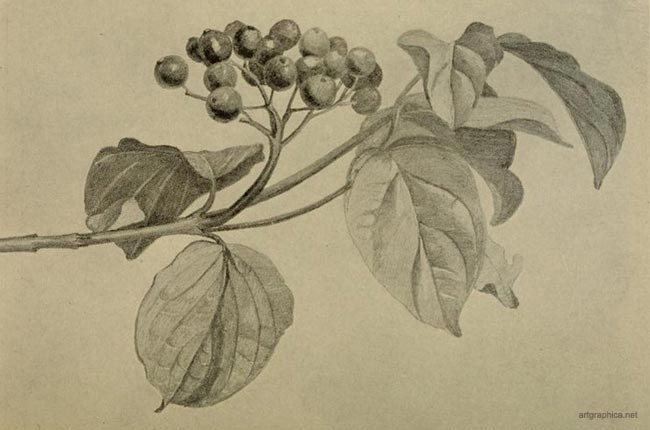 ILLUS.145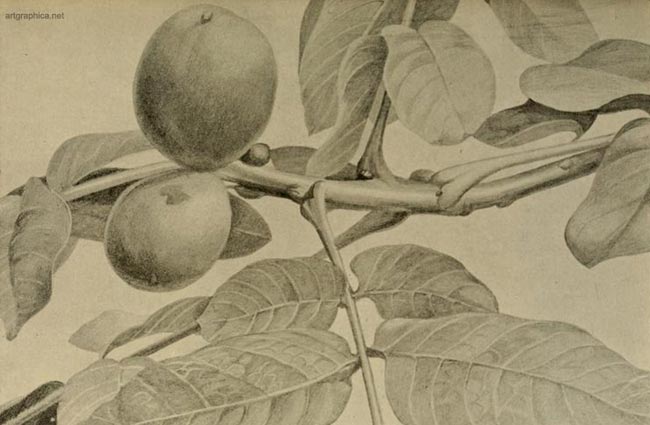 ILLUS. 146. FRUIT OF THE WALNUT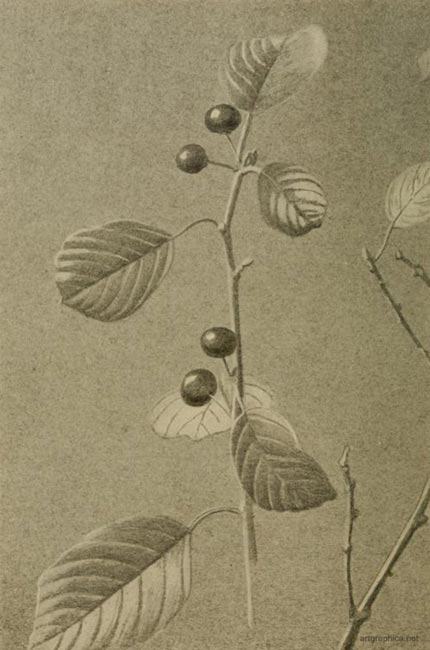 ILLUS. 147. EXAMPLE OF DRUPE-FRUIT OF THE ALDER BUCKTHORN
prickly covering of the Beech fruit, which usually encloses two (some­times more) nuts, is made up of the inner and outer scales of the catkin. The Spanish Chestnut bears the female flowers in groups of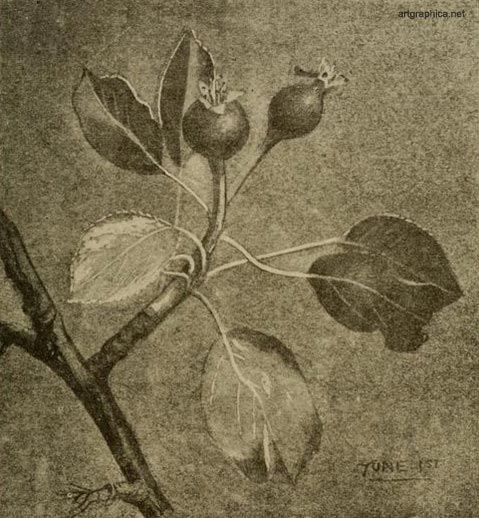 ILLUS. 148. THE YOUNG PEAR FRUIT BEING FORMED ROUND THE FLOWER. THE SEPALS, STAMENS, AND STYLE ARE SEEN PROTRUDING
two or three ; the fruit consists of two or three nuts enclosed in a prickly covering formed out of the four bracts that enveloped the flowers.
The berry is a fruit in which the matured ovary is fleshy throughout, the seeds being embedded in the pulp. The fruits of the Guelder­Rose and Elder are examples.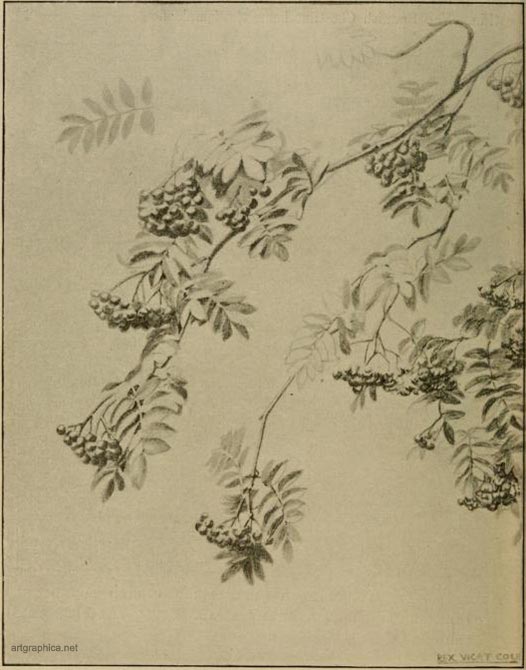 ILLUS. 149. EXAMPLE OF POME-FRUITS OF THE ROWAN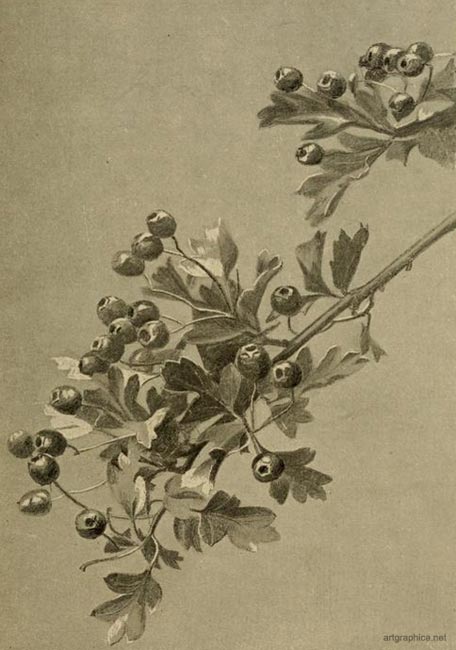 ILLUS. 150. EXAMPLE OF DOME-FRUIT OF THE THORN-TREE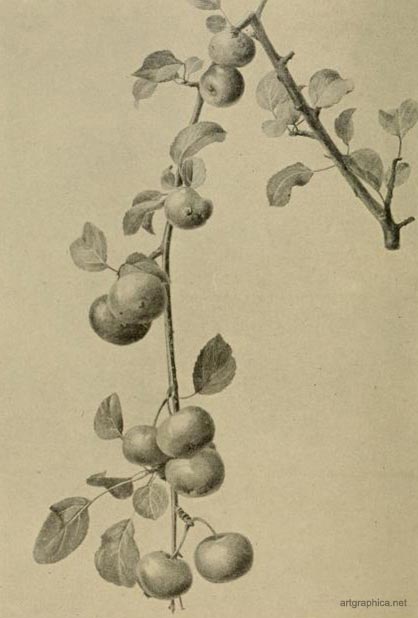 ILLUS. 151. BRANCH OF THE CRAB-APPLE TREE EXAMPLE OF POME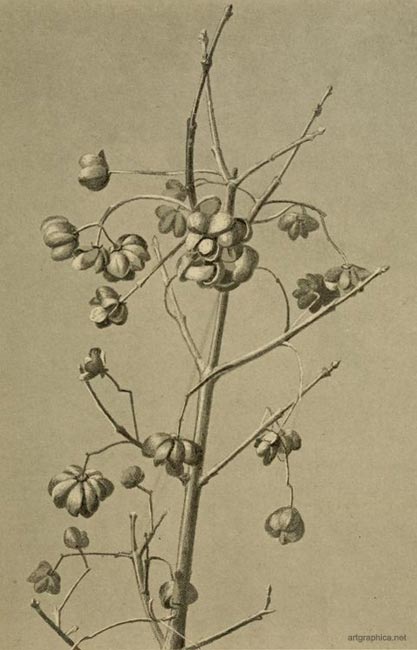 ILLUS. 152. FRUIT OF THE SPINDLE TREE.
Notice the shape of the rose-coloured capsules that enclose the seed membrane of a brilliant orange colour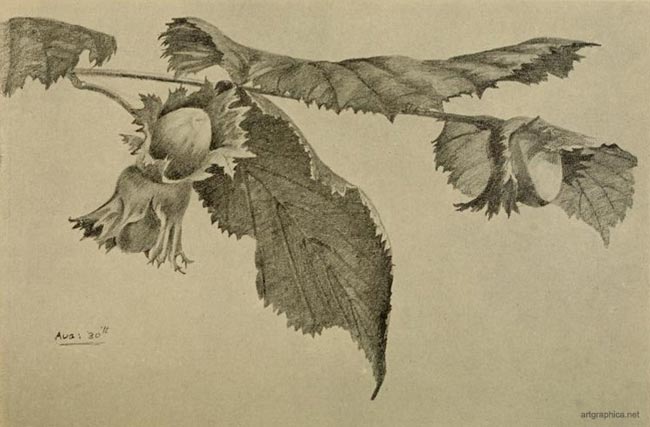 ILLUS. 153. HAZEL NUT

ILLUS 154. SPANISH CHESTNUT
The transition from the types of flowers that we have explained in the last chapter is shown in some of these fruits. The Cherry con­sists of the carpels ; the skin is the outer layer of the carpel, the flesh is the middle layer, and the stone is the inner layer, and the seed inside is the ripened ovule. The fruit was developed from a flower in which the pistil was free from the other forms. The Apple has the flesh formed of the receptacle, the core formed of the carpels, while the pips are the ripened ovules--the fruit, therefore, being developed from a flower in which the ovary was united to the receptacle. The Plum is formed of a single carpel, and the furrow down it corresponds to the junction of the margins of the carpellary leaf. The edible part in the Chestnut, Acorn, Walnut, and Hazel nut is provided by the seed- leaves, whose business later would have been to provide nourishment for the young plant, therefore they are protected by a bard or prickly covering. The edible part of some envelops the seed--as in the Apple and Pear ; in others, the edible portion surrounds the protecting shell of the seed.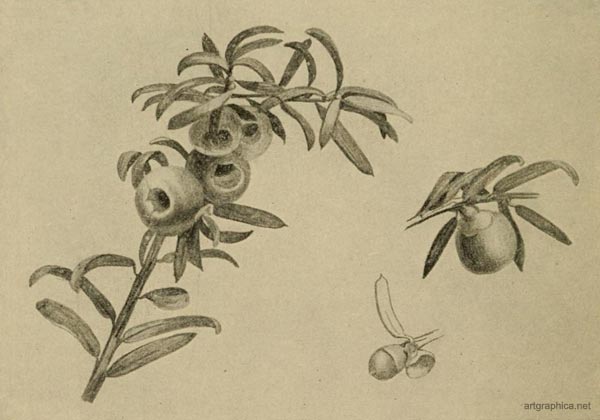 ILLUS. 155. FRUIT OF THE YEW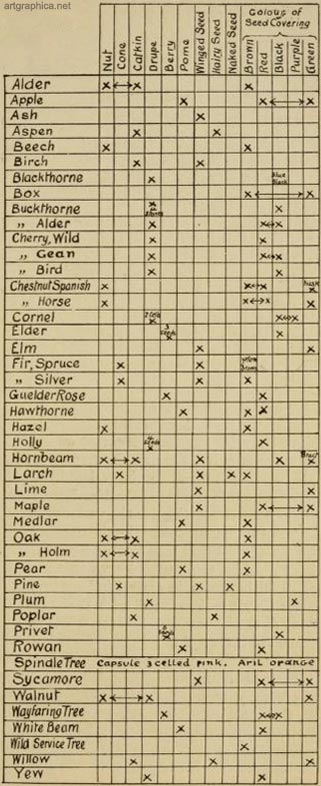 A DESCRIPTIVE TABLE FRUITS ON TREES