Female Nude in Charcoal, Part 3 of 3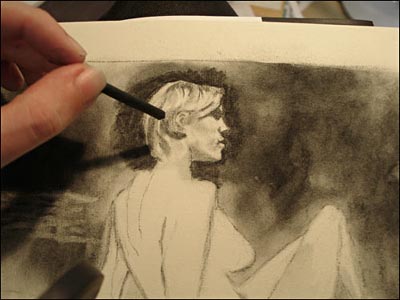 Details
Using a piece of sharpened vine charcoal I start working on the details. At this size things can be a little fiddly, but when mistakes happen the putty can be moulded into small thin points to put things right.
I have darkened the area around the head in an attempt to better define the face. At a later stage I plan to darken the entire background.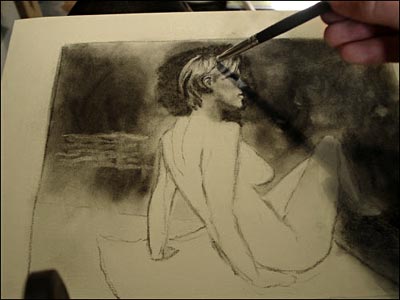 Hair
The colour shaper I'm using has a fine chiseled tip and I use this to put in a few finer suggestions of hair. I find the tool a little unpredictable in that sometimes it removes charcoal and sometimes it places charcoal. Pressure is a factor in this.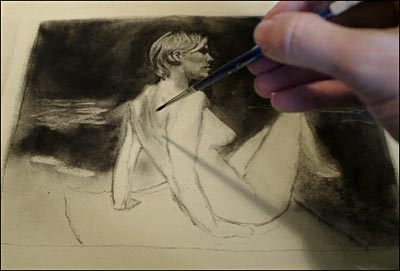 Toning the Body
I'm moderately happy with the head at this stage, though plan to return to it later. I use a little fixative on the face and background, and then darken the background with another layer of charcoal dust.
For the tones on the back and body I dip the small brush into the dust, give it a small tap to remove any excessive loose particles and then brush it onto the paper using a putty where necessary.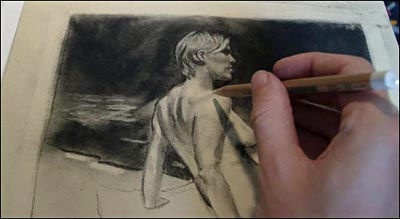 Highlights
I used the pastel pencil to add a few highlights where needed, but try to go sparingly. White pastel reflects light dependent on the angle of your light source so it is recommended to view your work from several different angles to try and ensure you are not over doing the highlights.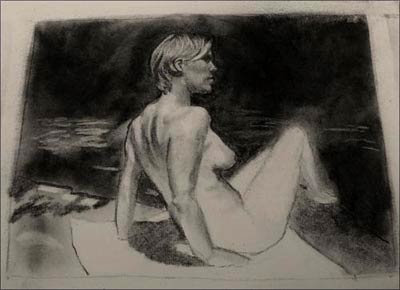 Foreground
A shadow below the figure helps give it a position within the drawing, and I start to make a few suggestions of things in the foreground, again careful not to touch the drawing with my fingers as even with fixative, charcoal can be a volatile medium.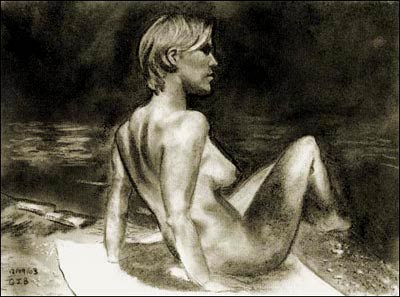 Finishing
I work the leg in a similar way to the body, then touch up and blend a few more areas before giving it a good spray of fixative so I can scan the image without the charcoal falling away.
There are lines, features and shading that I know could be improved upon, but I'm content to call it a day. Hopefully if nothing else, it helps demonstrate that charcoal needn't be an artist's enemy.
Incidentally, I was not particularly impressed with Daler-Rowney's charcoal paper. Even without relayering, the paper had taken as much charcoal as it could take (see right thigh) and slowly started beading!
DRAWING AND SKETCHING CD-ROM

Learn to Draw and Sketch for Beginners, Intermediate and Advanced Artists


For less than the cost of an hour's private art tutoring, the Drawing and Sketching Guide by ArtGraphica features two hours of video, alongside animation and step-by-step instructions covering all aspects of drawing and sketching, and aimed at artist's of all abilities. To learn more, follow the link below.




WILDLIFE ART GUIDE, CD-ROM

Wildlife Art Guide - covers Watercolour, Pencil, Oil Painting, Acrylic and Pastel.


The Wildlife Art Guide covers 9 different animals of the land, sea and air. Art lessons are in a variety of mediums including oil painting, acrylics, pastels, watercolour and pencils. It includes 3 hours of video alongside thorough step-by-step instructions, to help guide you through the techniques used by the different mediums. For more details, please follow the link below.