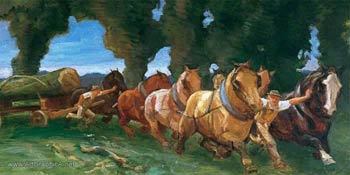 Today we've published a book on horse art, specifically dealing with the movement of horses, by the English artist Lowes Dalbiac Liard. Luard is a slightly neglected artist. When we think of horses and art, often names like Degas, or Stubbs, jump to the forefront. Luard was however well known in his day, creating sketches of horses at the Front in the First World War (he was later made an Official War Artist in 1939), capturing such scenes as the Percheron gun teams, fighting not only the enemy, but against the mud in which they were frequently bogged down in.
He spent thirty years of his life in Paris, watching the Percheron horses work down at the banks of the Seine before machinery took over.
Although the camera was well in use by artists of the time, Luard shunned their use, and felt they failed to capture the sense of movement and action, that might be seen by the trained eye.
This is not a book to teach the painting and drawing of horses in a step-by-step fashion, but with its many illustrations, it teaches how we might better observe these majestic animals, and capture their dynamic movements and rhythms so they may come alive in our own works of art.